Brazilian Rubens Barrichello won the Italian Grand Prix on Sunday in a Brawn one-two to cut team mate Jenson Button's Formula One lead to 14 points with four races remaining.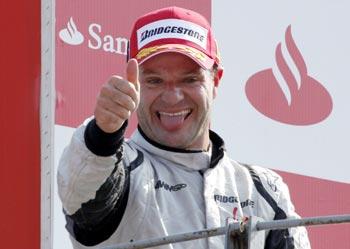 Button returned to the podium for the first time in six races with second place, 2.8 seconds behind the veteran, with Kimi Raikkonen third for Ferrari after McLaren's world champion Lewis Hamilton crashed on the last lap.
Hamilton had started on pole position but is now mathematically out of the championship chase.
Button has 80 points to Barrichello's 66 with Red Bull's German driver Sebastian Vettel and Australian Mark Webber on 54 and 51.5 respectively. Hamilton has 27.
Webber was pitched out on the first lap by BMW-Sauber's Robert Kubica while Vettel finished eighth.
The victory, in an enthralling strategic battle played out between those on one-stop and two-stop strategies at Formula One's fastest track, was Barrichello's second of the season and 11th of his career.
The championship-leading Brawns, who have now won eight of 13 races and two of the last three, made just the one stop.
Raikkonen and Hamilton, who was in third place when he caught the curve at the first Lesmo corner and hit the wall at the second, pitted twice.
Germany's Adrian Sutil finished fourth, collecting his first points of the season and handing Force India their second scoring finish in two races.
Spain's double world champion Fernando Alonso took four points for Renault, a team rocked by race-fixing allegations, while Finland's Heikki Kovalainen was sixth ahead of BMW-Sauber's Nick Heidfeld.
Italian Giancarlo Fisichella, who had finished second for Force India in Belgium last month, was ninth on his Ferrari debut as a replacement for the team's struggling stand-in Luca Badoer in the absence of injured Brazilian Felipe Massa.