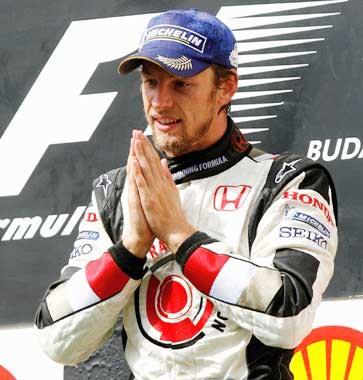 Jenson Button will partner Lewis Hamilton at McLaren next season in an all-British lineup of world champions, the Formula One team said on Wednesday.
The multi-year deal completes an astonishing year for the newly-crowned title holder, who did not know if he even had a future in the sport last December when his then-employers Honda withdrew.
The 29-year-old went on to win six of the first seven races of the season for Brawn GP, the team that emerged from the remains of Honda, and took the title in Brazil last month with one race to spare.
"It's always a difficult decision to leave a team when you've been there for so long. But life is all about challenges and, most important of all, it's about challenging yourself," Button said.
"So, although I won the world championship with Brawn GP, and I'll never forget that, I was always adamant that I wanted to continue to set myself fresh challenges.
"You can't help but be affected by this team's phenomenal history. McLaren is one of the greats of world sport, and its achievements and list of past champions read like a Who's Who of Formula One
"I've followed the McLaren team ever since I was a small boy, and it feels unbelievable finally to be a part of it," he added.
BEST POSSIBLE
The signing means Mercedes-powered McLaren will have two champion drivers for the first time since 1989 when France's Alain Prost and Brazilian Ayrton Senna formed an explosive pairing at the Woking-based team.
It will also be the first time a team has started the new season with the most recent two title-holders as well as the first pairing of British world champions since Graham Hill joined Jim Clark at Lotus in 1968.
"It has always been our policy to employ the two very best possible drivers," said team principal Martin Whitmarsh.
"In Jenson and Lewis, we feel we not only have the fastest pairing on the 2010 grid but also the two most complete, professional and dedicated drivers in Formula One.
"I want to make clear that Jenson's decision to join us was in no way motivated by money," he added. "We'll be paying him no more than he could be getting elsewhere."
While Button will still be well rewarded, with reports suggesting a pay packet of around six million pounds a year, he faces the toughest challenge of his career.
LIONS' DEN
Hamilton, 24, has been nurtured by McLaren for more than a decade and has made the team his own since bursting onto the scene as a sensational rookie in 2007 and then winning the championship in 2008.
"I think it's a mistake by Jenson," Britain's triple world champion Jackie Stewart told the BBC.
"It will be difficult for him to take on Lewis Hamilton. It's like walking into the lions' den."
Hamilton said he looked forward to working with Button, while also extending his best wishes to departing Finnish team mate Heikki Kovalainen.
"I already know Jenson, and we get on very well together. We both really want our team to succeed," he said.
"Although we'll be pushing each other hard, I'm sure we'll very quickly establish a great working relationship. He's an exceptional driver: very controlled and very smooth, and he has a real depth of knowledge and experience.
"I think we'll complement each other very well, and our collaboration will make the team stronger as a result."