Olympic hero Vijender Singh broke the bronze jinx and fetched one of India's two silver medals at the two-day Champion of Champions invitational boxing tournament in Guangzhou, China on Tuesday.
The 24-year-old Olympic and World Championship bronze medallist, who was bestowed the Khel Ratna award last year, lost 0-6 to China's Zhang Jin Ting in the middle weight (75kg) category final.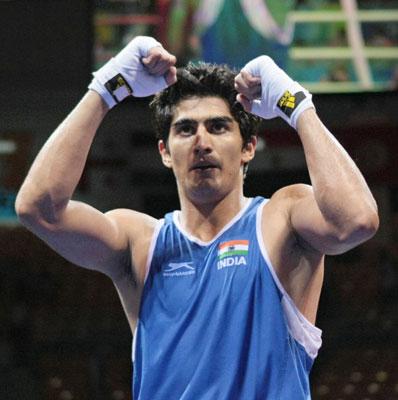 The other silver medal for India came through Olympian Dinesh Kumar, who settled for silver in 81kg after losing 2-10 to Chinese Meng Fan Long.
This was Vijender's second career loss to Zhang. The last time he got something better then a bronze at an international tourney was in the 2007 Asian Championships in Mongolia where he had clinched a silver medal.
"I am a bit disappointed that I lost to him again. The last time too I lost to him in China but it was a much closer affair and I lost by just a point at that time," Vijender, who also got $1,000 as prize money, said.
"But I am glad to have broken the bronze jinx. Also, it was good preparation for the Commonwealth Championship in March. It was fun to be back in the ring after a long gap," the Bhiwani boxer, who had not competed since the World Championship in September last year, added.
Dinesh, who was nursing a hairline fracture in his left hand before the tournament, also felt that it has warmed them up for the Commonwealth Championship scheduled in New Delhi.
"It will help. International exposure ahead of a major tournament is always welcome," he said.
The short prize money event also featured Commonwealth Games gold medallist Akhil Kumar (57kg) and former world youth champion Thokchom Nanao Singh (48kg), both of them lost in the opening round.
Both Akhil and Nanao lost to Asian champions in their respective categories on Monday.
The organisers had invited only the top four Asian boxers in each category and with just two rounds played only the finalists were awarded medals.
The gold medallists also pocketed $3,000 as prize money.