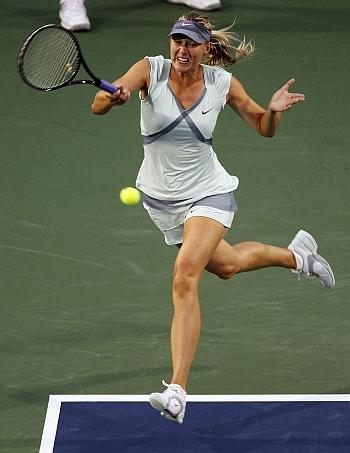 Maria Sharapova will meet Kim Clijsters in the final of the Cincinnati Open on Sunday after the pair came through contrasting semi-final ties.
Belgian Clijsters advanced after her Serbian opponent Ana Ivanovic retired with a foot injury early in the first set, while Sharapova had to battle through three tough sets to beat fellow Russian Anastasia Pavlyuchenkova 6-4, 3-6, 6-2 and reach her second final in successive tournaments.
In a fascinating encounter, the three-time Grand Slam winner Sharapova never truly dominated her determined 19-year-old opponent until she broke in the third set to take a 4-2 lead.
Sharapova was beaten in the Stanford final by Victoria Azarenka earlier this month.
While Clijsters, now a full year into her comeback, will be a tough opponent for Sharapova, the Belgian reached the final with little effort after a tearful Ivanovic was forced to quit.
Ivanovic had made a fairly routine return with the score 2-1 to Clijsters in the first set but then pulled up and had to receive extensive treatment.
The former world number one returned but was visibly in pain and had to retire.
It was a huge disappointment for Ivanovic, who has undergone a form slump since winning the 2008 French Open and is trying to claw her way back up the rankings. She had also looked in good form in Cincinnati, reaching her second semi-final of the year.
"I'm obviously disappointed the way it finished because I felt like I had really good run," said Ivanovic.
"Just on that one forehand when I went to step around it, I just felt so much pain in my foot and I couldn't step on it anymore.
"I tried (a) bit of tape, but I could not put any weight on it and there was no point in me continuing," she added.
The Serb said the injury was not a recurrence of any previous problem.Clijsters, the US Open champion, said she hoped the injury healed quickly.
"She is doing well again and then something like this happens, I hope she is okay and it is nothing too serious and she will be okay for the US Open," she said.
The first round of the US Open begins on August 30.