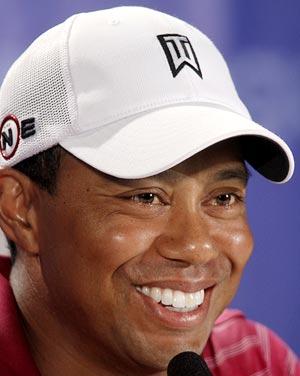 Tiger Woods has set his sights on a much cleaner start at this week's US PGA Championship, having shaven off the goatee he sported last week while producing the worst PGA Tour performance of his career.
The world number one struggled to a seven-over-par 77 in Sunday's final round of the WGC-Bridgestone Invitational but believes he has made good progress since then in tidying up his game for the year's final major.
He has worked hard in practice on limiting the movement of his head during the swing and hinted he might even recruit a new coach in fellow American Sean Foley.
"I was certainly frustrated in the way I hit the ball, the way I putted," Woods told reporters on Tuesday of his performance last week at Firestone Country Club where he finished joint second-last in the 80-strong field.
"I didn't do a whole lot positively ... I couldn't put together any rounds. But I've done some good work the last two days ... and hopefully I'll be ready come Thursday."
While practising at Whistling Straits, Woods has asked his caddie, Steve Williams, to hold the end of a club against his head to help him keep it still during his swing.
"It's something I have worked on over the years," Woods said. "I was rocking my head all over the place and it was allowing the shaft to lay down and from there it's all timing, so I couldn't get the club out in front of me."
The 14-times major winner played a practice round at Whistling Straits on Tuesday with compatriots Hunter Mahan and Sean O'Hair, who both employ Foley as their swing coach.
RIGHT DIRECTION
"I did ask him (Foley) to film a couple (of swings) and take a look at it, so I'm heading in the right direction," Woods said. "I'm pretty excited about that."
Asked whether he might employ Foley on a full-time basis, Woods replied: "Certainly it's a possibility, but there are a lot of other coaches out there as well who I've talked to."
Woods left Firestone with his game in disarray, the emotional state of his mind questionable and his status as world number one vulnerable.
Either Phil Mickelson or fellow American Steve Stricker could replace him at the top of the rankings this week but Woods was solely concerned with returning to winning ways.
"Just go out there and play," said the 34-year-old, who has been world number one for the last 270 weeks and for an overall total of 612 weeks in his illustrious career.
"I'm trying to win a golf tournament just like everybody else here and I'm going to give it everything I have."
A four-times winner of the PGA Championship, Woods has struggled on and off the course since his double life was exposed at the end of last year amid revelations of serial philandering.
"Life in general the last nine months has been very difficult," he said. "But my dad always said: 'Just keep living,' and that's something I have taken to heart.
"Every time I come out here (on Tour), it's been a little bit more difficult and off the golf course, it's been a lot more difficult. But things are starting to normalise, and that's a positive step in the right direction for sure."
Woods, who has yet to win this season after eight starts on the PGA Tour, will tee off with holder Yang Yong-eun of South Korea and 2004 champion Vijay Singh of Fiji in Thursday's opening round.