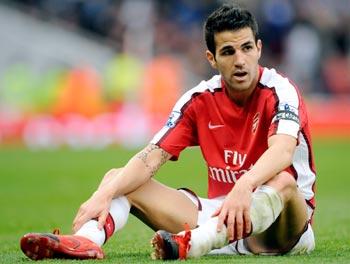 Arsenal captain Cesc Fabregas has finally ended speculation linking him with a move to La Liga champions Barcelona by confirming his commitment to the Premier League side on Friday.
"Firstly I would like to apologise to all the Arsenal fans for not speaking sooner about my future but I have not known what I was going to do until this moment," the 23-year old Spanish international said in a statement.
"I cannot deny that joining a club like Barcelona was not an attractive move for me... There are not many players in the world who would not want to play for Barcelona.
"I am a professional and I fully understand that it is Arsenal's prerogative not to sell me... I can assure all the fans that now the negotiations have ended I will be 100 per cent focused on playing for Arsenal," he added.
Fabregas, who began his career at Barcelona and has family there, had been the subject of continued interest from the Catalan club, who had a 29 million pound ($46.12 million) bid rejected for him in the close season, according to British media reports.