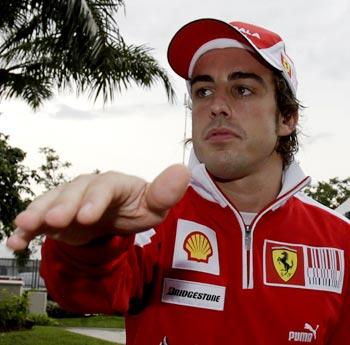 Had he not jumped the start, Fernando Alonso might have won Sunday's Chinese Grand Prix and gone home with his second win in four races.
As it was, in a chaotic race rich in incident, Spain's feisty double world champion provided a talking point later on with a move full of significance for the Ferrari driver's season.
When Alonso barged past team mate Felipe Massa on the approach to the Shanghai circuit pit lane, risking a collision, it spoke volumes even if the team and both men were keen to play it down afterwards.
"I have to say that Fernando, he is a racer, and I have to say that Felipe behaved very, very well," said team boss Stefano Domenicali.
"It is not easy, and I can understand what could be his (Massa's) feeling, but this episode has not changed our philosophy and for me that is the most important thing."
Alonso is the new man at the Italian glamour team but the same old steel lurks beneath the smile. There is no doubt about what he wants to achieve and where he thinks he stands in the pecking order.
He won on his Ferrari debut in the Bahrain season-opener and is eager to establish himself as a lasting number one. He was not going to just sit behind and cruise into the pits if he could find a way past.
Pino Allievi, Ferrari expert and veteran Formula One reporter for Italy's Gazzetta dello Sport, was under no illusions.
"An abrupt way of reclaiming the team leadership with an unexpected and chilling manouevre," he told his readers. "Typical of someone who, behind the peaceful exterior, hides the killer instinct of a champion."
FAVOURITE SON
Brazilian Massa, a favourite son who has come back strongly from the life-threatening head injuries suffered in Hungary last year, had arrived in China as world championship leader.
He left Shanghai in sixth place overall, with Alonso third and well placed to take the lead at the next race -- his home Spanish Grand Prix in Barcelona.
"I believe it was a pretty normal thing," Alonso said of an incident that went almost unremarked in a British media celebrating Jenson Button's second win of the season ahead of McLaren team mate Lewis Hamilton.
"I knew that when two team mates are fighting there are rumours. If it was two different cars there wouldn't be a problem," he added.
"I think Felipe had too much wheel-spin on the final corner and I had a bit of an advantage in the pitlane entry."
The Spanish and Brazilian media suggested Massa saw it differently.
"Alonso put his car next to mine and when I saw it I knew we could have an accident. So I thought of the team and that made me lose more than three places," he was quoted as saying.
It was Massa who stirred up a hornet's nest last year when he suggested that Alonso must have known about his then-Renault team mate being ordered to crash deliberately in the 2008 Singapore Grand Prix so that the Spaniard could win.
Massa had led the race until that point and ended up losing the title by a single point. However much they shake hands and smile, theirs will never be the easiest of relationships.
EARLY HIERARCHY
Apart from the Ferrari pair, the end of Formula One's first swing through the Middle East and Asia established an immediate hierarchy.
Alonso, Button and Red Bull's Sebastian Vettel have all emerged as winners.
Germany's Nico Rosberg, with two successive podiums and a 4-0 record over illustrious team mate Michael Schumacher in both qualifying and races, has made the seven-times world champion look a shadow of his former self.
Far from being 'murdered' on the racetrack by Hamilton, as former racer Eddie Irvine had suggested he would be, Button has settled in at McLaren as if to the manner born and with an easy confidence.
He leads the championship now just as he did last year and has outqualified Hamilton 3-1 to boot.
Vettel has had three poles and could have had as many victories. Already he looks like a champion in waiting but Button, Hamilton and Alonso can be counted on to push him all the way. Whether Massa can remains to be seen.