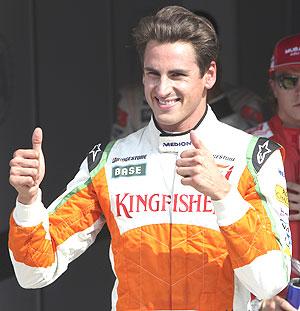 Adrian Sutil, one of the key drivers of the Vijay Mallya-owned Force India, is expecting a top ten finish in this weekend's Chinese Grand Prix in Shanghai.
Sutil finished fifth and scored his first points of the season in the Malaysia GP two weeks ago, which gave the 27-year-old German lots of confidence.
"I don't think we should be concerned about our performance at the moment, we are strong and we can fight in the top 10, and that's very encouraging at this point of the year," Xinhua quoted Sutil, as saying.
When asked about what would be possible in Shanghai, Sutil said: "I'm confident, definitely. It was encouraging in Malaysia, and also the last races in Bahrain and Australia. I think we can show a very similar performance in China."
Force India's other driver, Vitantonio Liuzzi has also been among the points for the Silverstone-based team this season.