Vitantonio Liuzzi has been among the points right from the start of the season and Force India chairman Vijay Mallya now wants the other driver, Adrian Sutil, to follow suit.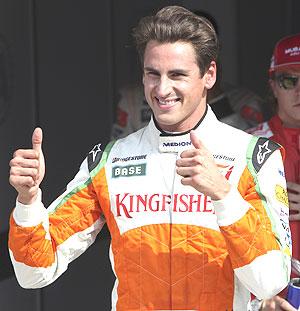 Liuzzi came out of Sutil's shadow in the season-opener in Bahrain where his ninth place finish earned two crucial points for the Silverstone-based outfit.
And as if to prove that it was no flash in the pan, the Italian came up with a magnificent race in Melbourne where his seventh place finish fetched another six invaluable points.
In contrast, Sutil - even though he managed to get into third qualifying sessions (Q3) in both races - had his campaign marred by an opening lap tangle in Bahrain and an engine problem in Melbourne.
Mallya said the team would look into the gremlins that crept into Sutil's car but he wants both the drivers to be among points in Sunday's Malaysian Grand Prix.
"I've always maintained that our car is competitive, particularly in race pace, and now we expect our cars to be finishing in the top 10 and in the points," Mallya said.
"Tonio drove exceptionally well (in Melbourne) and scored points but it was very disappointing about Adrian. Hopefully we'll get to the bottom of it and make sure it doesn't happen in the future.
"I'm pleased with what we got, although you always think it could have been better. So I'm looking forward to the next race where I'd dearly like to see both cars coming home with the points," said Mallya, also the team principal.
Mallya said all the drivers need is to steer clear of mishaps.
"The cars are clearly capable of being in the top 10. I just hope we don't have any bad luck in terms of extraordinary events or incidents. If both cars get a good, clean race I think both should be in the points. We're on target," he said.
Sutil too rued missing out on two point-scoring opportunities but sounded determined to be third time lucky.
"Malaysia is always a good event, very tough physically, but there's a variety of corners and also some overtaking spots so it's an event I look forward to," said the German driver.
"The weather, as we saw last year, always throws up some interesting challenges. This year we don't have to pray for rain as we have done in the past, we can deal with the conditions whatever they are.
"I really want to get some points on board in this race, I've had two races where I should have scored, so I want to finish the job now," Sutil added.
The entire team is now looking forward to Friday's free practice sessions. It has been decided that Liuzzi will sit out of the first practice session to accommodate test and reserve driver Paul di Resta behind the wheel.