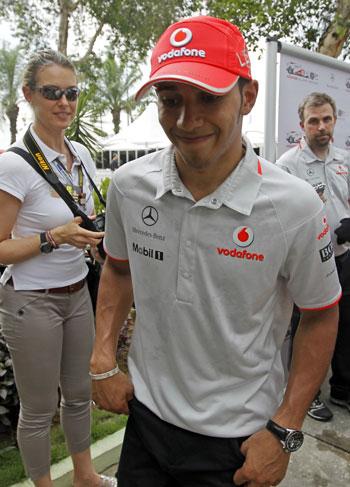 Lewis Hamilton put last weekend's problems behind him by going quickest in both practice sessions for the Malaysian Grand Prix on Friday as Red Bull's reliability issues continued to haunt them.
The 2008 champion had his street car impounded by Melbourne police days before an ill-advised pitstop ruined his Australian Grand Prix last Sunday but the Briton was back on form in Sepang, clocking a fastest time of one minute 34.175 in his McLaren.
Sebastian Vettel showed the pace that has taken his Red Bull to two poles in as many races by lapping just 0.266 seconds behind Hamilton after a subdued morning practice but his team mate Mark Webber's session was cut short by an engine problem.
Ferrari opted to use both sessions to test out various tyre and fuel combinations and finished well off the pace but Mercedes enjoyed a solid showing with Nico Rosberg and Michael Schumacher matching the pace set by McLaren and Red Bull.
Hamilton dominated both sessions and topped the timesheets throughout most of the day but remained cautious ahead of Saturday's qualifying.
"I think our qualifying pace hasn't been great the last two races so hopefully tomorrow will be a little bit better for us but we have to look out for the weather," Hamilton told reporters minutes before a thunderstorm drenched the circuit.
"It appears we are quite competitive but we don't know what other people are doing with fuel loads, so we really have to wait and see."
GOOD BALANCE
Team mate Button won a rain-shortened race for Brawn GP a year ago and although he could not match Hamilton on Friday, his third and fourth fastest times over both sessions suggests he could follow up last week's victory with a strong performance.
"For me, it's been about playing with the setup, I have been getting there slowly but it's been a long afternoon for me trying to find a good balance but it's starting to take shape," Button said. "The car is pretty good in high speed."
Webber cut a forlorn figure when he spoke to the media after a second session where he had laboured well down the order before he slid off into the gravel.
"It was the engine," the Australian said. "You never want your Friday disturbed and today's problem cost us quite a bit of track time.
"But the car felt pretty good in the quick stuff and also at low speeds."
Despite his upbeat analysis of the car's pace, problems remain with its reliability after mechanical failures cost team-mate Vettel victory in both Bahrain and Melbourne.
Schumacher's return to Formula One after a three-year hiatus has had more lows than highs in the opening two races but the German is beginning to relish the fight that earned him seven world titles as he learns more about his car.
"Certainly things are better and better each time I am out and getting back into it," he said. "In Melbourne I definitely felt more into the car than in Bahrain. The problem is consistency."