Tiger Woods was guarded about the state of his marriage on Monday but reaffirmed his commitment to his family as he prepared to end a five-month self-imposed exile from golf at the Masters.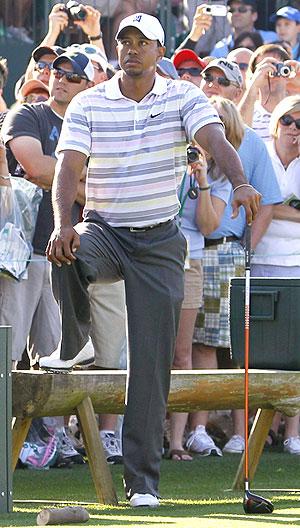 Woods told a news conference he had lied to himself as well to his wife, family and friends about his secret life of sexual dalliances. But he added he was emerging from the ordeal of personal and public humiliation with a new appreciation for what really mattered in life.
The World No 1 underwent 45 days of treatment after his serial infidelities became public, although he would not specify what he was treated for.
"That's personal, thank you," he said, before throwing some light on the family life that his behaviour has threatened.
"Just prior to Christmas I made the decision to enter rehab. And having spent Christmas Day with my family was just incredible and then having to go off from there into treatment, that was a very difficult time.
"What people probably don't realise is that because of the time frame of it, I missed my son's first birthday. And that hurts. That hurts a lot. I vowed I would never miss another one after that. I can't go back to where I was.
"I want to be a part of my son's life and my daughter's life going forward and I missed his first birthday. I mean, that was very hard that day and something I regret and I probably will for the rest of my life."
Asked if his wife, Elin, and the children would be joining him this week at Augusta, the 34-year-old Woods said: "Elin is not coming this week, no."
Asked whether he should be returning to golf so soon rather than spending more time to repair his marriage, Woods replied: "Well, I'm excited to play this week."
In his first public comments in February following the sex scandal revelations, Woods sounded like he was a long way from returning to competitive golf.
The American told reporters that after a few days of practice and some work with his swing coach Hank Haney he started to feel "the itch" to resume playing.
"It feels fun again," said Woods. "When you live a life where you're lying all the time, life is not fun. And that's where I was. Now that's been stripped all away and here I am. And it feels fun again."
Meanwhile, Woods also said that he had received treatments for injuries from a Canadian doctor under investigation for smuggling performance-enhancing drugs but insisted he had never taken illegal drugs.
Woods said US investigators had contacted his IMG agent, Mark Steinberg, about his connection with Dr Tony Galea and that he would cooperate with them.
Galea, who treats athletes with a plasma therapy called "blood-spinning" to aid the healing process, faces drug-related charges in Canada and a US grand jury probe into smuggling drugs, including human growth hormone.
"He did come to my house," Woods addedd about Galea. "He never gave me HGH or any PEDs. I've never taken that my entire life. I've never taken any illegal drug, ever, for that matter."
Woods said officials had not yet asked to interview him.
The legal, blood-spinning technique involves drawing blood, spinning it in a centrifuge and returning it into a patient.
Woods said he used the technique to overcome knee and Achilles' injuries and get back on the golf course in 2008 and in 2009.
"I had PRP, platelet enriched plasma treatments," said Woods.
Woods said he played last year taped up for support and also went to hyperbaric chambers after his PRP injections to further speed his healing process.
Federal agents have interviewed several other prominent athletes treated by Galea, including New York Mets players Carlos Beltran and Jose Reyes and have expressed interest in talking to New York Yankees slugger Alex Rodriguez.
"He's worked with so many athletes," explained Woods. "There's a certain comfort level to that when a person has worked with athletes."