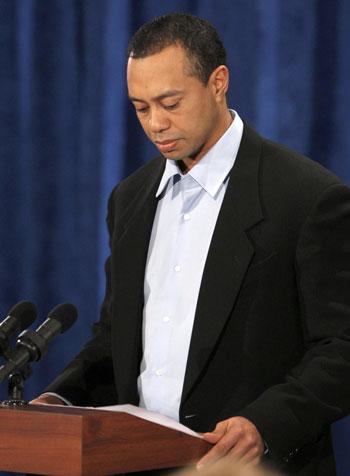 Tiger Woods has admitted that he "was living a life of a lie" in his first TV interview after the exposure of his sexcapades.
The golfer said, in dueling interviews on ESPN and the Golf Channel, that confessing his misbehaviour to his wife Elin and family was extremely difficult.
"They've been very tough. Because I hurt them the most. Those are the two people in my life who I'm closest to, and to say the things that I've done, truthfully to them, is honestly was very painful," the New York Daily News quoted him as saying.
Woods admitted in the Golf Channel interview that he had lost control over his "disgusting behavior".
He said: "Yeah, I tried to stop, and I couldn't stop. It was just, it was horrific.
"I've had a lot of low points. Just when I thought they couldn't get lower, they got lower," he added.
On being quizzed why he married Elin Nordegren, Woods replied: "Because I loved her. I loved Elin with everything I have.
"And that's something that makes me feel even worse, that I did this to someone I loved that much."
Woods further revealed that his wife's reaction after the revelation was "shock" and "anger."
He said: "She was hurt, she was hurt. Very hurt. And, you know, she had every right to be, and I''m as disappointed as everyone else in my own behavior because I can't believe I actually did that to the people I loved.
"I was living a life of a lie. I really was. And I was doing a lot of things, like I said, that hurt a lot of people.
"Stripping away denial and rationalization, you start coming to the truth of who you really are, and that can be very ugly.
"But then again, when you face it and you start conquering it and you start living up to it... the strength that I feel now, I've never felt that type of strength."
However, Woods said the days he spent at a Mississippi sex rehabilitation clinic helped him.
He said: "A lot has transpired in my life. A lot of ugly things have happened.
"I've done some pretty bad things in my life. And they all came to a head. But now, after treatment, going for inpatient treatment for 45 days and more outpatient treatment, um, I'm getting back to my old roots," he added.
The sportsman added that he "strayed from his core values" and his practice of Buddhism and meditation.
He insisted his father, Earl, who died in 2006, would "be very disappointed in me."
He said: "That's one of the things I miss, I miss his guidance, wish I could have had his guidance through all this to have him help straighten me up," he said. "I know he would've done it."
Meanwhile, Woods is set to make a comeback on April 8 at the Masters in Augusta.
He ended: "It would be nice to hear a couple claps here and there. But also hope they clap for birdies, too."