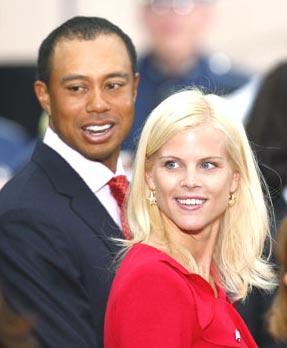 Elin Nordegren is ready to break up her marriage with Tiger Woods after the golfer admitted to a string of extramarital affairs, according to media reports.
"Divorce is 100 percent on. She's not rushing to divorce, however. She's going to take her sweet time. She wants all the dirty laundry to be out on the table before she signs anything," ABCNews.com quoted a source saying.
Elin, former Swedish model and mother to his two children, has already been spotted without her wedding ring.
There are also reports floating around that Elin has already met a divorce lawyer and is looking for $500 million dollar settlement.
"She's made up her mind. There's nothing to think about: he's never going to change," an unidentified source told People magazine.
Last week, Woods said he would take an indefinite break from professional golf after admitting he cheated on his wife and bowing to the pressure of two weeks of frenzied media scrutiny of his private life.
The allegations followed a bizarre, minor early morning car accident outside his Florida home on November 27 that rapidly ballooned into a full-fledged sex scandal that turned his previously unblemished life and career upside down.
"I am deeply aware of the disappointment and hurt that my infidelity has caused to so many people, most of all my wife and children," said Woods.
Following the incident, Woods has been dumped by at least one big corporate sponsor, while some sponsors have been supportive and others are re-evaluating their relationships with the world's No. 1 golfer.
The American was estimated to earn about $100 million a year in endorsement deals before his unwelcome troubles. However, Woods' popularity has plummeted in the short space of two weeks as a parade of up to 14 women -- from cocktail waitresses to porn stars -- came forward to say they had had
flings with the married father of two.
On Sunday, Accenture said it was ending its six-year sponsorship deal with the golfing icon, the world's first billionaire athlete who is believed to be the wealthiest sports personality on the planet. Accenture's move away from Woods came a day after Gillette said it would limit the use of Woods in its marketing. AT&T Inc has said it is evaluating its relationship with him.
Woods and Elin married in 2004 and have two children, two-year-old daughter Sam and 10-month-old son Charli.
Photograph: Reuters