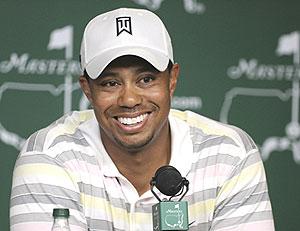 Tiger Woods took full responsibility on Monday for the marital infidelities which have led to his startling fall from grace and admitted he had lied and deceived a lot of people.
"I lied to a lot of people, deceived a lot of people," the American World No 1, who sported a goatee and wore a gray, yellow, pink and white-striped shirt and black trousers, told a packed news conference.
"I fooled myself as well. The full magnitude of it, it's pretty brutal."
Speaking before his comeback to competition at the US Open on Thursday, Woods said his Swedish wife Elin would not be attending the tournament.
He also pledged to give the game more respect in the future and said he would to try to tone down his occasional bad language and emotional outbursts out on the course.
Woods has not played professional golf since winning the Australian Masters on November 15 following revelations that he had had a string of extra-marital affairs.