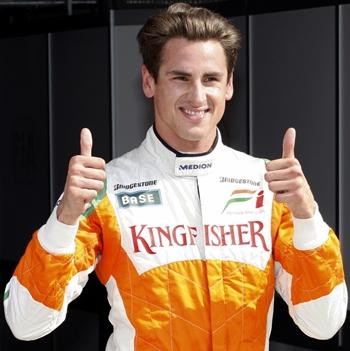 Adrian Sutil is yet to score his first points this year but the Force India driver is impressed with the potential of the car and has no doubts that regular points and occasional podium finish would be the order of the season for the Silverstone-based outfit.
"After witnessing the pace of the car and the improvements we have made in the first two races, definitely regular points and podium finishes now and then seems a realistic target for us," Sutil said.
"We need to improve our car a little bit more and I'm sure podium finish is not far away. We also need a little bit of luck," he said.
"To start the season with a good car has made a lot of difference. It is now much easy to qualify for Q3. The team is very motivated unlike last year," he added.
Sutil was little unlucky not to be among the points, especially after qualifying 10th on the grid in both Bahrain and Australia.
The German finished a disappointing 12th place in Sakhir while retired just after nine laps in Albert Park last weekend with an engine problem.
His teammate Vitantonio Liuzzi has failed to make the top 10 in qualifying in both the races, but the Italian has managed to secure eight points by finishing ninth in Bahrain and seventh in Melbourne.
A desperate Sutil said he cannot wait to break his points jinx in Sunday's Malaysian Grand Prix.
"Definitely I am eyeing Q3 again. It is possible. Hopefully, I will score some points. I've had two races where I should have scored," he said.
He also said that he his under no pressure to perform, especially with Liuzzi stealing the limelight in Bahrain and Melbourne.
"I don't take pressure. In Melbourne an electrical failure ruined my day. It's a shame but that happens in Formula 1.
"But after the first two races, it has become must for us to keep the momentum going. We want to continue with the same performance in the future races," Sutil said.
With a wet race forecast and 30 degree heat and 70 per cent humidity predicted for Sunday, the drivers are expecting tough conditions but Sutil said rains have always been Force India's strong points.
"It's very tough physically because of the heat. So fitness and concentration is absolutely key. But rains always have been good for us. I am expecting normal weather," he said.
Sutil also rejected claims that Formula One has become boring and the thrill aspect has vanished from the sport after the new regulation changes.
"People have to be more patient. It is not wise to say new regulations have made F1 boring. Melbourne proved that the theory is not true. Australian GP was fantastic for spectators," the driver said.
He was of the view the Malaysian GP won't be as much interesting as last weekend and a good qualifying race would be key to the team's success.
"Its very hard to overtake here and difficult to follow a car. I am not expecting an exciting race as Melbourne but a normal one. Qualifying is very important here," Sutil said.