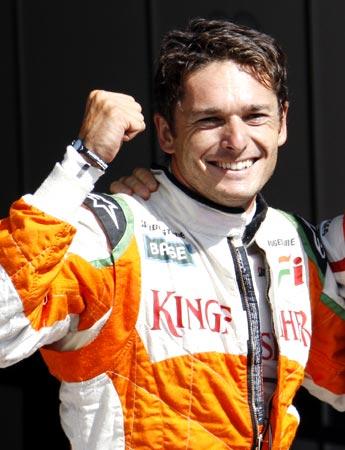 Already accused of buckling under the pressure, Formula One leader Jenson Button [ Images ] has the added strain of racing against a fired-up Giancarlo Fisichella [ Images ] at Monza on Sunday.
Champions Ferrari [ Images ] made one of Fisichella's dreams come true when they drafted in the Roman as a replacement for compatriot Luca Badoer [ Images ], himself standing in for injured Brazilian Felipe Massa [ Images ], last week.
Fisichella, 36, was not even born when an Italian driver last won his home Grand Prix [ Images ] at Monza but he has the chance of realising another lifelong ambition now.
He will have the crowd behind him, a burning desire to show that he still has what it takes after all these years and a car equipped with the KERS energy recovery system that Button's Brawn lacks.
"It will be an incredible weekend, with lots of pressure but it's a pressure that will give me a push forward," Fisichella told Italy's [ Images ] Sky Sports television.
"I know Monza well, I've been racing there since 1992 when I was in F3. It's a track that allows you to think about what to do before braking for a turn because of the quick straights. That helps me a bit."
The last Italian driver to win a Grand Prix at Monza was Ludovico Scarfiotti with Ferrari in 1966, although Italian-born American Mario Andretti triumphed with Lotus in 1977. Fisichella finished third with Renault [ Images ] in 2005.
CRACKING CONFIDENCE
Whatever happens in the last European Grand Prix of the season, Button will head for Singapore as championship leader. He has a 16-point lead over Brazilian team mate Rubens Barrichello [ Images ] but the air of confidence is starting to crack.
After winning six of the first seven races, the Briton has taken just 11 points from his last five races compared to Barrichello's 21.
Massa, observing from afar, did not doubt that it is all in the mind.
"For me the pressure has had a big impact on his mind -- and he needs to deal with it better. If he does not cope with the pressure he will not win the championship," said last year's runner-up.
Button's problem is that there are now an increasing number of rivals, including Fisichella, capable of keeping him off the podium.
Two of the last three races have been won by KERS cars and the system, offering a brief boost of power at the push of a button, is likely to be a particular advantage at high-speed Monza.
Kimi Raikkonen [ Images ], winner in Belgium for Ferrari, will again be a favourite although he has yet to win in Italy while Red Bull's two title contenders Sebastian Vettel [ Images ] and Mark Webber [ Images ] are both hungrier than ever to close the gap on Button.
Vettel won from pole position at Monza last year with Toro Rosso in a wet race.
Force India [ Images ], with Italian Vitantonio Liuzzi taking Fisichella's place, expect Monza to suit their car just as much as Spa -- where Fisichella finished second from pole position for that team's first points.
BMW-Sauber, struggling for most of the season, could also be contenders after encouraging performances at Spa with Poland's Robert Kubica [ Images ] fourth and Germany's [ Images ] Nick Heidfeld [ Images ] fifth. Renault are reviving their KERS system and McLaren [ Images ] are back up to speed.
"The teams have closed up together and every weekend is now a World Cup final," said Red Bull boss Christian Horner after Belgium. "We have got to get it right."