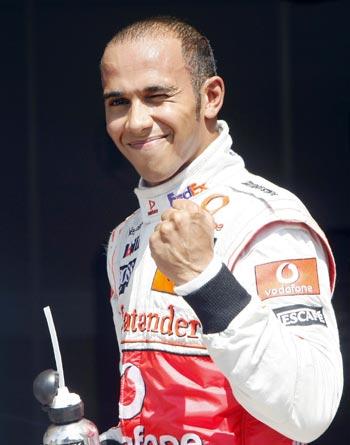 Lewis Hamilton says he would welcome Jenson Button or anyone else as his McLaren team-mate next year.
Button, who has replaced Hamilton as Formula One world champion, has been linked in media reports to McLaren for 2010 despite Brawn owner Ross Brawn saying at the weekend that he was 99 per cent certain the Briton would stay with his team.
"I've heard the rumours but the team haven't decided anything and they haven't told me anything," 2008 champion Hamilton told reporters at the Abu Dhabi Grand Prix, where he was fastest in first practice.
"So I'm sitting back and waiting to see what happens."
Hamilton's current team-mate is Finland's Heikki Kovalainen, who has been eclipsed by the 24-year-old over the season. While the Briton has won twice, Kovalainen has yet to stand on the podium and scored less than half as many points.
Finland's Kimi Raikkonen, the 2007 world champion, is favourite to return to his former team after being replaced by Spaniard Fernando Alonso at Ferrari but McLaren have said they are in no hurry to make a decision.
"I don't have any preference, if I'm honest," Hamilton said of his future team-mate.
"I've got such a strong relationship with Heikki, I really do think he is a great guy and also a great driver, and I'm happy with him being my team-mate.
"If things change, then it will be unfortunate in some ways, but whoever comes I'll welcome whoever does come, and hopefully they will help us win world championships."
Hamilton hailed Button, who clinched the title in Brazil this month with a race to spare, as a worthy world champion.
"I'm very happy for Jenson. I think he did an incredible job this year," he said.
"It doesn't seem to have changed him. He just seems to be getting stronger, and I think it's a great experience for him.
"I had an incredible experience and I can see how hard he has worked over his career. So I know exactly what he is going through, so I'm just happy that a fellow Brit is world champion."