Jenson Button is looking forward to the day when he can tell his children that he was Formula One world champion.
The Briton has done the hard part already, taking the title in Brazil this month with a race to spare, and now just needs the kids which, as he hastened to point out on Thursday, are not likely any time soon.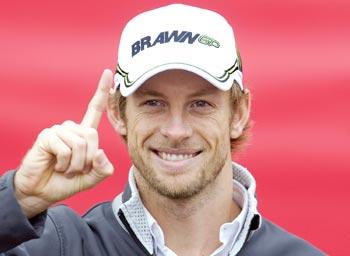 The Brawn driver was still coming to terms with his success when he arrived at the Abu Dhabi Grand Prix after a brief vacation in Dubai with Argentine-Japanese lingerie model girlfriend Jessica Michibata.
He said he was not the only one still walking on air.
"My engineer Shov (Andrew Shovlin) was very excited over the weekend in Brazil but he sent me a text message two days later, saying 'I've just realised what we've achieved'," Button told reporters.
"Obviously he had a couple of shandies (drinks), and he said, `I am home with my lovely family, and I've just realised what we've achieved: we are the best in the world at the moment, the best at what we do.
"'And I cannot wait for my kids to be old enough to be able to tell them what we have achieved.'
"That is something that excited me about my future, for sure -- having the family and telling them that your daddy was world champion...but that will be in 20 years' time, before you start writing 'Jenson can't wait to have kids'," added Button, sensing a tabloid headline in the making.
STRESS-FREE
Abu Dhabi makes its debut on Sunday as the first grand prix to start in daylight and end at night and Button said he relished the prospect of a stress-free race for the first time this year.
"It has been a special few days, but it's a strange feeling because you have achieved what you set out to do in your career," added the 29-year-old, whose team have already won the constructors' title.
"For so many years you have been fighting for it, and you've achieved it.
"And where do you go from here? But there's a lot to achieve after here. There are new goals, and new challenges. I am not going to think about them too much now, but there are a lot of challenges out there I am excited about.
"This weekend I am going to enjoy myself. It has been a while since I have jumped into a Formula One car and not felt stressed or a little bit under pressure," added Button, who has yet to agree a new deal for 2010 with Brawn but will start talking in earnest after the weekend.
"It is the first time I can relax and go and do my thing.
"It has been a long time since I've driven an F1 car and not thought about the season, because leading the world championship every race is very exciting but there are pressures involved with that.
"The last time I wasn't thinking about the world title would have been the last race in 2008. So this will be the first race this season I can go out there and just enjoying the weekend -- which is going to be a nice feeling."