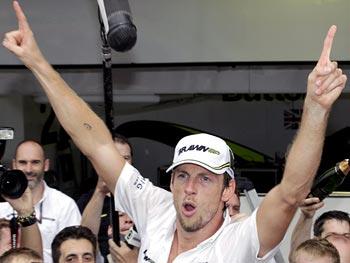 Jenson Button celebrated the greatest night of his Formula One career alone in a Sao Paulo hotel room, lying in bed with a smile on his face and a pinch mark on his arm to prove it was not a dream.
The 29-year-old had promised on Sunday, after clinching the title in the Brazilian Grand Prix with a race to spare, that he would enjoy the long-awaited moment "like you would not believe".
The champion was right about that. While his jubilant Brawn team mates let out pent-up emotions and partied the night away, the Briton put in a brief appearance at the celebrations and then made his excuses and left.
"I think most drivers when they have the possibility of winning the world championship, they go crazy," Button told reporters at his hotel on Monday, wearing a T-shirt proclaiming "What goes around comes around" and with a glass of chilled white wine on hand.
"They go out and have an absolutely crazy evening. But we all celebrate in different ways and for me to just chill on my own was the best thing for me.
"I obviously wanted to go out and congratulate the whole team, which I did, and then I got home and just relaxed and just took everything in. It was perfect," added Button.
"It was great to see all the guys, they were on top form but it was a bit hectic for me. It was just so full on...I wanted a bit of alone time."
SLEEPLESS NIGHTS
Button spent sleepless nights in the run-up to Sunday's race, particularly after qualifying in 14th place while closest rival and team mate Rubens Barrichello was on pole position, but this was a different kind of vigil.
He rang his lingerie model girlfriend Jessica Michibata, away working on a fashion shoot, and spoke to his mother in Britain.
"I was up until about four just really lying in bed with a big grin on my face," he said. "Just time by myself, just relaxing and thinking about what I had achieved. That was the best place for me.
"I only slept for about three hours, I couldn't sleep for any longer. I just wanted to be awake to enjoy it. I woke up every hour just with a smile on my face.
"I've got a few pinch marks on my arm. In my engineering debrief yesterday with Shov (his race engineer Andrew Shovlin), we were running through everything and I lent over and I pinched his arm and he squealed like a girl.
"He said 'what was that for?' and I said 'Shov, I'm just making sure you're awake'. And then...I needed to make sure I was awake so I had to pinch myself as well.
"It's been such a memorable few days, such a rollercoaster of emotions just even over this weekend. Forget the season, just this weekend."
Button, who was flying back to Britain later on Barrichello's private jet, looked forward to visiting the Brawn factory on Wednesday to thank everyone.
He will then fly to Dubai on Thursday to meet up with his girlfriend before the final race in Abu Dhabi.
"It's always difficult in a nightclub to speak to people because it's so loud and there's so much going on," he said, sounding more like a responsible senior citizen than a racing driver.
"Everyone's celebrating but you can't feel the emotion together. Wednesday will be the time when I see everyone that's put this together and made this happen and that will be the special time for me."