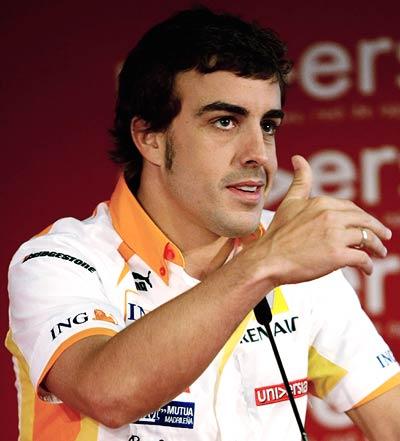 Renault's Fernando Alonso made his peace with future Ferrari team mate Felipe Massa on Friday before setting the pace in free practice for the Brazilian Grand Prix at Interlagos.
While the Spaniard lapped with a best time of one minute 12.314 seconds, Brazilian Rubens Barrichello was the fastest of the three championship contenders ahead of what could be a title-deciding race on Sunday.
The Brawn GP driver was second in the morning session, behind Red Bull's Mark Webber, and third in the afternoon at what amounts to a neighbourhood track for the Sao Paulo native.
His team mate and championship leader Jenson Button, who could take the crown on Sunday with a race to spare, was seventh and fifth respectively.
Australian Webber had lapped the anti-clockwise circuit in 1:12.463 seconds before lunch, with occasional rain interrupting proceedings.
Red Bull's Sebastian Vettel, the third man in the title fight, managed the third and seventh best times in the two sessions.
Barrichello is 14 points adrift of Button, with Vettel -- winner of the previous race in Japan -- two further back.
"We achieved more running than we initially expected today with just a few little showers rather than the rain that was forecast," said Button. "The car seems to be working well ... which is encouraging and the pace was good."
RACE-FIXING SCANDAL
Alonso, a double world champion who won both of his titles with Renault at Interlagos without winning the Brazilian race, had been in the spotlight on Thursday in continued fallout from his team's involvement in a race-fixing scandal.
While the Spaniard has been cleared of any involvement in an affair that landed Renault a suspended permanent ban, Massa told Brazilian reporters his future team mate must have known what was going on.
The Brazilian is still recovering from the serious head injuries suffered in Hungary in July and is not racing this weekend.
The two met between the sessions in the Interlagos paddock, in what Ferrari presented as a chance encounter, and were photographed smiling and shaking hands.
McLaren's Lewis Hamilton, who beat Massa to the title at Interlagos in a season-ending thriller last year, was 10th in the afternoon after lapping fifth fastest in the morning.
The opening session was halted briefly when Renault's French rookie Romain Grosjean blasted through a polystyrene advertising block and scattered a cloud of debris across the track.
Toro Rosso's Sebastien Buemi, who was second fastest in the afternoon, spun and hit the tyre wall backwards when the action resumed, damaging his car's rear suspension.
Force India's Adrian Sutil clocked the ninth quickest time in both the practice sessions with team mate Vitantonio Liuzzi classified 17th in the morning and 16th in the afternoon after hitting traffic on his potentially quickest laps.