The Renault Formula One team accused their former driver Nelson Piquet and his father of attempted blackmail on Friday and said they had commenced criminal proceedings in France against the two Brazilians.
The team faces a hearing in Paris on September 21 after allegations were made that Renault ordered Piquet junior to crash deliberately at last year's Singapore Grand Prix to help team mate Fernando Alonso win the race.
If found guilty, the team could be kicked out of the championship.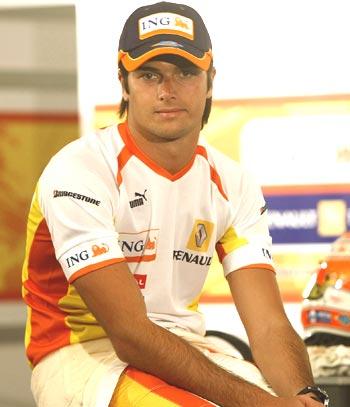 Renault broke their silence on the matter at the Italian Grand Prix after documents were leaked detailing Piquet's allegations to the governing International Automobile Federation.
"The ING Renault F1 Team and its managing director Flavio Briatore personally, wish to state that they have commenced criminal proceedings against Nelson Piquet Junior and Nelson Piquet Senior in France," the team statement said.
It accused the pair of making "false allegations and a related attempt to blackmail the team into allowing Mr Piquet Jnr to drive for the remainder of the 2009 season."
The team, whose main factory is in England, said the matter would also be referred to police in Britain.
Piquet junior was replaced as a Renault driver in August after he had failed to score a point in 10 races. His father and namesake was a triple Formula One champion who has closely guided his son's career.
Alonso told reporters at the Italian Grand Prix on Thursday that he had been unaware of any plan cooked up by his team in Singapore.
"I am very surprised. I cannot imagine these things or this situation," he said.
The accident, at a point on the track where cars cannot be swiftly removed, came just after Alonso had refuelled after a very short first stint.
The safety car was then deployed, to the Spaniard's advantage.