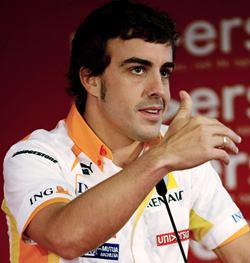 Fernando Alonso said allegations that his Renault team staged an accident to help the double Formula One world champion win last year's Singapore Grand Prix had surprised him as much as anyone.
"It is difficult to understand all this situation, all these investigations," the Spaniard told reporters at the Italian Grand Prix on Thursday.
"I am very surprised. I cannot imagine these things or this situation."
Former champions Renault are due to appear before the governing International Automobile Federation (FIA) on Sept. 21 to answer charges that they ordered Brazilian Nelson Piquet to crash in the night race a year ago.
The accident, at a point on the track where cars cannot be swiftly removed, came just after Alonso had refuelled after a very short first stint.
The safety car was then deployed, to the Spaniard's advantage.
Asked whether he had known anything about what might have been going on, Alonso replied: "No."
The Spaniard said he had a close relationship with Renault team principal Flavio Briatore, who is also his manager, as well as with former team mate Piquet.
"We were team mates for a year and a half, and I never had a problem with him," he said of the 24-year-old who was dropped by Renault in August after failing to score a point this season.
DRIVER DOUBTS
Alonso and senior Renault team members were questioned by investigators at last month's Belgian Grand Prix and statements taken ahead of the world motor sport council hearing in Paris.
Piquet has not spoken out publicly about the allegations and Renault have not commented on them either.
Formula One drivers who spoke to reporters on Thursday said questions had been raised about the crash at the time without anything emerging.
"Immediately after the race, in the briefing, everybody who was there in the paddock had the thought it at least looked like it could have been on purpose," said BMW-Sauber's German driver Nick Heidfeld.
"It didn't seem strange he crashed, but the fact they had those two strategies and he crashed at that time, made me think."
Compatriot Nico Rosberg, who finished second for Williams behind Alonso in Singapore, agreed.
"It was quite a coincidence. All the things that come together, Alonso goes in earlier and then the safety car comes out a lap after. It was a rumour that you heard in the paddock after the race," he said.
"I don't think they did (do it)," he added. "If it was deliberate it would surprise me because it was quite shocking. Pretty impressive, in a negative way."
Brazilian Rubens Barrichello, who was ordered to hand victory to then-Ferrari team mate Michael Schumacher in Austria in a 2002 controversy, suggested there could be another agenda in the background.
"Someone wants Briatore's head," he told a news conference.