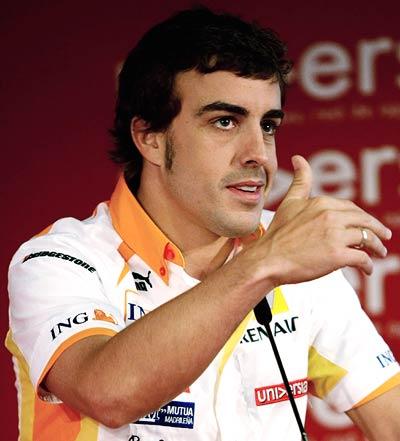 Fernando Alonso has shrugged off accusatory comments by future Ferrari team-mate Felipe Massa and said their relationship would not suffer next season.
Massa caused a storm ahead of his home Brazilian Grand Prix on Sunday when he told local reporters Renault's double world champion Alonso must have known about his team's tactics in last year's Singapore Grand Prix that helped the Spaniard win.
Alonso has denied any involvement in a scandal that left former champions Renault with a suspended permanent ban.
The French team's former boss Flavio Briatore was also barred for life after Brazilian Nelson Piquet said he had been ordered to crash deliberately to bring out the safety car.
The International Automobile Federation (FIA) has also said it had no reason to believe Alonso was in any way involved.
"I was not involved in anything, I didn't know anything, so there were no doubts. I didn't pay too much attention," Alonso told reporters on Thursday when asked about Massa's comments.
"It will not affect anything, me or the relationship. I actually think we will be great," added the Spaniard.
Alonso, whose switch to Ferrari next season as Massa's team mate in place of Finland's Kimi Raikkonen was announced last month after Renault were punished, added:.
"At Ferrari the group is more important than the individual, where everyone is part of the team, a big family.
"I think it will be a good group and we will be a very strong team next year with Felipe and me."