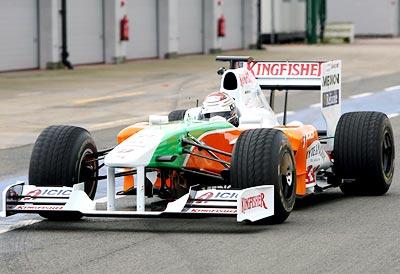 Former Honda executive Otmar Szafnauer will replace Simon Roberts as Force India's chief operating officer from the end of the Formula One season, the team said on Wednesday.
Roberts, who had been in charge of the day to day running of the team, had been on secondment from McLaren as part of a cooperation agreement and will continue in his position until November 2.
Quiet and meticulous, he had previously been McLaren's director of operations.
Force India's owner, the liquor and aviation mogul Vijay Mallya, and McLaren team boss Martin Whitmarsh addressed staff at the Silverstone factory on Wednesday to announce the management reshuffle.
"We are sad to see Simon go as he has been a crucial linchpin," said Mallya in a statement ahead of Sunday's Brazilian Grand Prix. "However he was always on secondment and we knew we would have to let him return to the McLaren fold.
UPWARD TREND
"We are confident that Otmar, with his wealth of F1 experience, will be a worthy successor and will continue the strong upward trend we have seen in the last half of the season."
Under Roberts's guidance, Mercedes-powered Force India have gone from tail-enders to pole position and then second place in the Belgian Grand Prix.
Germany's Adrian Sutil also qualified on the front row in Italy last month before finishing fourth.
Szafnauer, a Romanian-born American, was previously an operations director at BAR and then a vice-president of Honda Racing Development.
He left the Japanese manufacturer before it decided in November to quit Formula One and sell the team to principal Ross Brawn in a management buyout. Brawn can clinch both titles in Brazil on Sunday.
"He (Szafnauer) will now take over Simon's direct responsibilities, including overseeing factory and trackside operations," the team said.
"Simon will return to McLaren Applied Technologies to take up a senior management role and will continue his involvement with Force India from the other side of the partnership."