Mercedes have played down, without completely dismissing, media speculation that seven times Formula One world champion Michael Schumacher could come out of retirement as Jenson Button's replacement.
"It's clear that there will always be speculation as long as one cockpit is still free," said a spokesman for the German carmaker, who have taken over world champions Brawn, on Saturday.
"And some speculations are nothing but dreams which will not come true."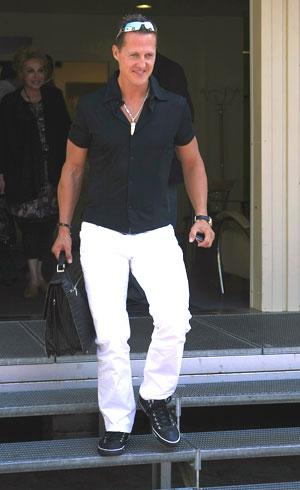 Schumacher's spokeswoman Sabine Kehm said she would be surprised if the German came out of retirement at the age of 41.
"Michael is enjoying his life very much. To me, a return would therefore be highly unlikely at the moment," she said.
Britain's newly crowned world champion Button has moved to McLaren where he will have the number one on his car as team-mate to 2008 champion and compatriot Lewis Hamilton next season.
Brawn, who will compete as Mercedes in 2010, have yet to name their driver line-up although Germany's Nico Rosberg is sure to be one of them.
Former F1 team owner turned television pundit Eddie Jordan stoked the speculation when he told BBC radio that he was sure Schumacher, who will be 41 in January, was in the frame to replace Button.
ACTIVELY PURSUED
"The possibility is being actively pursued and I believe it is going to happen," said Jordan, who gave Schumacher his Formula One debut in 1991.
"It started with a meeting between Michael, Ross Brawn and Daimler chief executive Dieter Zetsche at the Abu Dhabi Grand Prix," he added.
"At the moment, it is not possible for Michael to drive for Mercedes because he has a consultancy contract with Ferrari. But I understand he was due to meet Ferrari president Luca di Montezemolo with a view to being released.
"I also believe Ross and Michael have spoken in recent times and that Michael likes the idea of driving a Mercedes run by Ross. It's a mouth-watering idea."
Brawn guided Schumacher to all his seven titles as technical director and master strategist at Benetton and then with Ferrari. Schumacher also drove for the Mercedes sportscar team before breaking into Formula One.
Schumacher was willing to make a temporary comeback this year after Ferrari's Brazilian Felipe Massa suffered serious head injuries but the German had to abandon that plan due to his own neck injury.
That injury, sustained while racing a motorcycle, should be far less of a problem by the time the next Formula One season starts in March.
However the former champion agreed a new three-year contract as a Ferrari advisor only last September, with a source at the Italian team denying any knowledge of a Mercedes approach.
Formula One's commercial supremo Bernie Ecclestone made clear where he stood on the subject: "It would be fabulous for the sport," he told the Daily Mail.