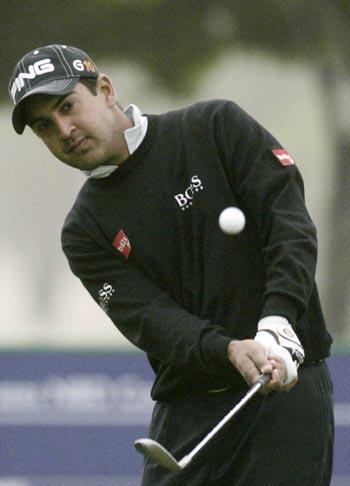 Indian pro Shiv Kapur jumped into title contention after a sparking second round card of five-under 67 that not only sent him soaring to second spot in Johnnie Walker Cambodian Open but also brightened his chances of salvaging an Asian Tour card for next season.
Currently in 69th position on the Asian Tour Order of Merit, Kapur gave himself a huge boost of retaining his Tour card when he charged into contention with a superb 67.
He made the turn in 35 before adding a birdie on the 10th hole and closing strongly with three consecutive birdies, including a 20-footer at his last, even though he felt it could have been better.
"All in all, it was a frustrating day because I hit it close to the flag but couldn't buy a putt. The way I struck the ball I should be at least 12 or 13-under. Luckily for me, I ended with three birdies and that turned an average day into a good day," said Kapur, who needs to finish in the top-65 to keep his full playing rights on the Asian Tour.
"The greens are pretty tough here but fair. My putting has let me down and if I can get my putter hot during the weekend I should have a good chance," added the 2005 Rookie of the Year.
Gunning for his maiden Asian Tour title, Welshman Craig Smith fired six-under 66 to total nine-under 135 and open up a two-stroke lead over Shiv Kapur, Annop Tangkamolprasert (69) and Artemio Murakami (69) who share the second spot in the $300,000 full field Asian Tour event. Among other Indians in the fray, Vikrant Chopra (140) carded one-under 71 to lie tied 13th and stay in hunt for a top 10 finish.
One shot behind at tied 15th was rising star Anirban Lahiri, having returned an identical 71 in the second round.
Kolkata pro Rahil Gangjee (142) was at tied 23rd after carding 72, while Amandeep Johl (145) was tied 48th after carding a similar even-par round. Amateur Rashid Khan (147) went for 74 to miss the cut by two strokes.