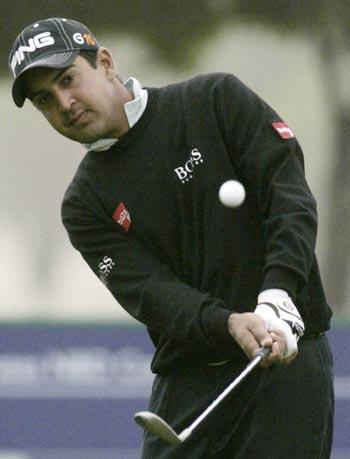 The European Tour card somehow salvaged, talented Indian golfer Shiv Kapur now faces a fresh battle to retain his Asian Tour full playing rights at this week's Johnnie Walker Cambodian Open.
Since capping his Asian Tour debut with one victory in 2005, the Delhi pro has successfully maintained his full playing rights in Asia but the former Rookie of the Year needs a top result at Phokeethra Country Club to keep his streak alive.
"As a personal milestone since turning pro, I have always maintained my Asian Tour card and that is something I would like to carry on. I haven't won in a few years but I feel my chances are better on this side of the world," said Kapur.
Following his career breakthrough four years ago, Kapur, who was the Asian Games gold medalist in 2002, has endured a few bumps in his career but he is confident of ending his season on a high note at the $300,000 full field Asian Tour event starting on Thursday.
He is presently ranked 69th on the Asian Tour's Order of Merit and needs to break into the top-65 to maintain his status. As the Johnnie Walker Cambodian Open will be his last event of the season in the region, Kapur knows he needs to get the job done by this week.
"One of my goals (every year) is to keep my card in Asia and to try to get a win before the end of the season. There isn't one single factor that has held me back but I feel my game is steadily improving and it is getting back on track," added the Indian.
Kapur, however, is high on confidence, following a tied 48th outing in the UBS Hong Kong Open, which helped him secure his card in Europe for the fourth straight season.
Meanwhile, compatriot Anirban Lahiri, currently in 29th position on the Asian Tour Order of Merit, is also expecting a top finish."I managed to fix a few problems such as my mental breakdowns and that has helped me to win twice in India," Lahiri said.
"It is great to be able to be back to winning ways and I just have to keep patient about winning on the Asian Tour. I know it will come soon enough," said Lahiri who has four top-10 finishes so far this season.