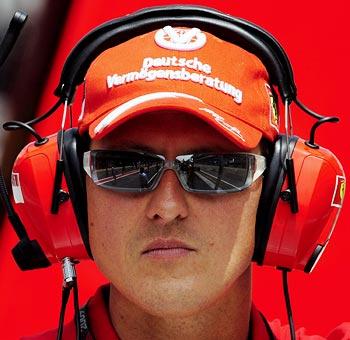 Michael Schumacher can still be a winner in Formula One even at the age of 41 if he makes a comeback with Mercedes next year, according to former champion Nigel Mansell.
"Age will not be a factor in Michael's story," Britain's 1992 champion told the Mail on Sunday newspaper.
"It wouldn't surprise me if Michael challenged for another world championship."
Schumacher, a seven-times champion and Formula One's most successful driver, retired in 2006 but has told his former Ferrari team that there is a "very, very, very strong possibility" of his racing for Mercedes in 2010.
Mercedes have taken over this year's title-winners Brawn GP, with Schumacher in line to replace Jenson Button after the world champion moved to McLaren. The German, who took his 91st race victory in China in 2006, will be 41 in January.
"It doesn't matter what age you are as long as you are professional, committed and focussed," said Mansell, who won his title aged 39 and competed in Formula One until he was 41.
"People have written Michael off as over the hill, I look at it differently.
"Michael has tremendous experience and talent, and Mercedes will provide him with a fantastic package. He is extremely fit and we can take his commitment and professionalism for granted.
"For me there is no downside to this. He's won enough titles, so what does he have to worry about losing to anyone? It may take a few races to get to grips with his car, but after that it wouldn't surprise me if he was to challenge for his eighth title."