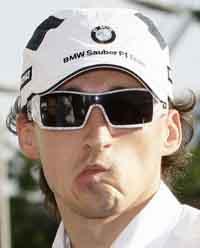 Robert Kubica is assessing his future at Renault after the manufacturer's decision to sell a significant stake in its Formula One team, the Polish driver's manager said on Wednesday.
Daniele Morelli told the BBC it is "not automatic" Kubica would stay although he hinted he is likely to do so and sought more information about the team's plans.
"We would like to know about Genii Capital and who is doing what in the team, a partner can be a sleeping partner or a controlling partner," said Morelli.
Earlier, Renault said it plans to sell a significant stake to Genii, a Luxembourg-based specialist in brand management and motor sports, but would run the team jointly with its new partners.
"The cards have changed in respect of when we signed and it's important Renault give us full information," said Morelli.
Kubica raced for BMW-Sauber this year and signed with Renault after BMW decided to withdraw.
"We are not against the new position in principle but it is important to know who will run the team and what kind of strategies they will use. It could be positive or negative," said the manager.
"We need some time, at least a few days, to evaluate the new situation so I am not in a position to say we will leave or stay."
ESCAPE CLAUSE
Kubica's contract is likely to contain an escape clause covering a change of team ownership, given Renault's future was uncertain when he signed up.
He is highly-rated in the Formula One paddock and is likely to be of interest to Mercedes, formerly champions Brawn, should retired seven-times champion Michael Schumacher decide against a comeback at the age of 41.
Mercedes have yet to name a replacement for world champion Jenson Button, who has joined McLaren, but media reports have said they are close to a deal with Schumacher.
There are few, if any, other vacancies that would interest the Pole.
Only Sauber, Toro Rosso and the new US F1 and Campos Meta teams have yet to complete their line-ups and none would be able or willing to match Kubica's Renault salary.