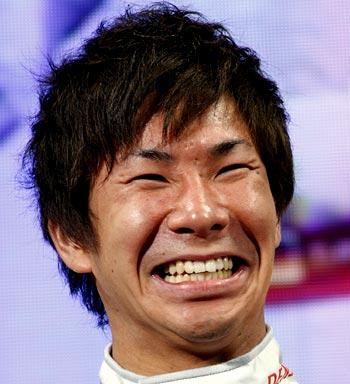 Kamui Kobayashi will race for Sauber next season, ensuring Japan still has at least one driver on the starting grid now that Toyota have followed Honda out of Formula One.
The 23-year-old impressed after competing as a stand-in for injured German Timo Glock at Toyota in the last two races of this year.
"In the final two Grands Prix of last season he was granted an unexpected chance to show his skills, and he made impressive use of it," said team founder Peter Sauber in a statement on Thursday.
"Particularly in the Abu Dhabi race he demonstrated not only that he can drive fast and aggressively, but also his ability to successfully implement a strategy.
"I am convinced he has a great deal of potential and will be able to make the most of it in our team."
Kobayashi, who was born in Amagasaki and lives in Paris, ended the season in Abu Dhabi hoping for a seat at Toyota but fearing that he would have to return to Japan to work in his father's sushi restaurant if no other job offers turned up.
NO BUDGET
The Japanese finished sixth in that season-ender, starting 12th and overtaking Brawn's new world champion Jenson Button in the process as well as beating experienced Italian team mate Jarno Trulli.
He had finished ninth on his debut in Brazil after taking part in practice at Suzuka two weeks earlier -- the Toyota reserve driver's first time in a Formula One car for seven months.
A winner in Asian GP2 but less successful in the European version of the support series, Kobayashi had no personal budget to continue racing.
"Ever since the start of my career I have dreamed of racing in Formula One," he said on Thursday. "Now this dream has come true. I am very happy that my two races in 2009 have earned me a cockpit place.
"I will do my very best for Peter Sauber's team and I am proud to be able to carry on flying the Japanese flag in Formula One."
Swiss-based Sauber secured their future only this month when BMW sold the team back to Peter Sauber after a previous agreement with the mysterious Qadbak investment fund fell through.
BMW's pullout had left the team as official reserves and they had to wait for Toyota to pull out before being sure of their place as the 13th team.
The only other Japanese driver in Formula One last season was Toyota-backed Kazuki Nakajima, who failed to score a point and has lost his seat at Williams.
Takuma Sato, Japan's most successful driver, failed to secure a drive with the new Lotus F1 team and is still looking for an opening.