Legendary American athlete Michael Johnson joined the chorus of renowned sports persoanlities who have criticised the preparation of the upcoming Commonwealth Games in Delhi by saying they were "doomed from the start".
The specially-built Games village for the multi-sport event, which starts on Sunday, was slammed last week as nations from around the world hit out at the poor state of its cleanliness and drainage. Johnson, now a BBC television commentator, feels that the decision to stage the Games in October, outside the mainstream season for athletics, traditionally the event's central attraction was a wrong decision.
"This edition of the Commonwealth Games was doomed from the start," Johnson wrote in his column in a British newspaper.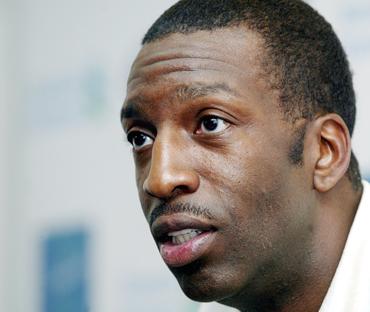 Reigning Olympic and World 100& 200m champion Usain Bolt has already pulled out of the Games as he wanted to focus on World Championship. "First, the timing was all wrong...Keep in mind the traditional season for athletics -- which would be one of, if not the, premier sports of the Commonwealth Games -- takes place from April to the end of August.
"That's if the athlete has not competed in the indoor season taking place in January and February.
"To finish the season in August and then go back into training or try to maintain peak competitive form is extremely difficult in preparation for an event that takes place more than one month after your last race.
"This is also taking place at a time when most track and field athletes are in their annual four to six-week break from training and this off-season could be one of the most important of all with the World Championships taking place next August." Johnson added concerns over security and reports from over a year ago that Games construction projects were falling behind schedule, as well as claims of corruption meant that "someone probably should have made the decision to pull the Games from India some time ago".
He also questioned the worth of an event restricted to former British Empire nations, saying the Commonwealth Games "have struggled in past years to get the best athletes to take them seriously" and that in athletics "a Commonwealth title barely registers any respect on a global scale." Johnson though said the Games could be a "wonderful event with a great history", adding he'd found both the 2002 and 2006 editions in Manchester and Melbourne respectively to be "thrilling and well organised".
"Unfortunately, it looks like Delhi will be a bit of a letdown," he added. But even before the row over the state of the village erupted, several leading athletes, including Jamaican sprint star Usain Bolt, had already withdrawn from the Games.