First time US Open champion Rafael Nadal believes the key to him winning nine Grand Slam titles in a little over five years has been his powerhouse shots.
Asked what does he think when he is playing against his rivals, including Federer, ABC News quotes Nadal as saying: "Nothing! Try to put the ball inside. The important thing is the shots. It's easier to be a great champion with a lot of shots and nothing of head than a lot of head and nothing of shots."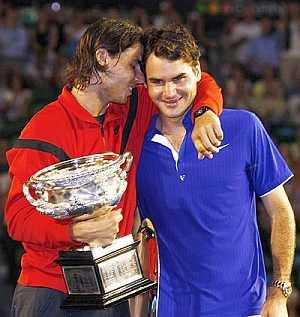 He says that while he would love to triumph over his chief rival Roger Federer very time they meet on court, he sees Federer more as a role model than an enemy.
"I think to have Roger there was always a reference to improve, and a big motivation to be a better player because you always see a better player than you there," the 24-year-old Spaniard said of Federer, 27, of Switzerland.
Nadal still thinks Federer is a better player and the man to beat. "I am not still thinking. I am sure," he said.
Nadal and Federer are the only pair of men to have ever finished five consecutive calendar years as the top two ranked players