Grand Slam champion Roger Federer has reportedly told British tennis star Andy Murray that not having a coach could be positively beneficial.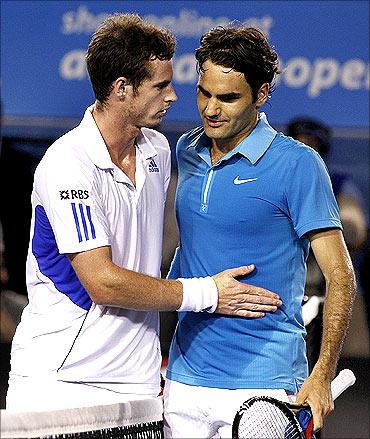 Murray is without a coach for almost three weeks, since parting company with Miles Maclagan.
Federer, who won his 210th Masters match by beating Juan Ignacio Chela 7-6, 6-3, has only just started a new coaching relationship with Paul Annacone, the former mentor to both Pete Sampras and Tim Henman.
Federer says he spent a long time without a coach at his side and he now feels confident enough to try something different and experiment a little.
"I became No 1 in the world having no coach, really. I went through a period of time, which was very interesting almost at the peak. I didn't have a management company, nor did I have a coach. I thought that was a great learning experience for me and that's why I think I'm super stable today, regardless if I do have all the stuff around me," the Daily Express quoted him, as saying.
"Today, I like it that I have that power to take decisions on a tennis court and also off court and that's something I'm very happy I went through," he added.
"That's why, it's just a learning process in the beginning and you have to feel with what you're comfortable with. And sometimes smaller is bigger and sometimes bigger is better. It depends on how you feel and where you are in your career and your stage of your life," Federer said.