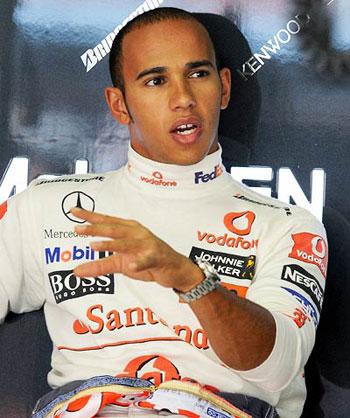 Lewis Hamilton's McLaren team have told the Formula One world title contender not to beat himself up about the mistake in Sunday's Italian Grand Prix that cost him the championship lead.
The 25-year-old retired at Monza without completing a lap after banging wheels with Ferrari's Felipe Massa in a rash attempt to overtake for third place.
Hamilton shouldered the blame and did not attempt to hide his frustration.
"You always kick yourself when you make a mistake," he told Reuters.
"You kick yourself more than anyone can kick you, regardless of if your boss comes up to you and says 'well, we're all disappointed but...this is motor racing and you're still great bla bla bla'.
"Regardless of that you still kick yourself hard. It's just the way some people deal with it and that's how I deal with it. If I didn't do what I did today, I probably wouldn't be who I am," he added.
"That's me. I do push and that's me as a racing driver, that's how I do it."
DEJECTED DRIVER
McLaren team principal Martin Whitmarsh agreed and told reporters he had spoken at length to the dejected driver in his room in the motorhome and assured him that nothing needed to be changed.
"That is what a great racing driver has to do, he has to take risks, go out there and push, and on this occasion it didn't come off," he said.
"It was very close, a few centimetres left and it would have been okay, but it wasn't. We have to live with that, bounce back, be refreshed, rejuvenated and focused, and that's what we will be.
"The important thing is that Lewis jumps out of bed in the morning, gets in to training, focuses on Singapore and wants to do the job there. And he will."
Hamilton's accident allowed Red Bull's Mark Webber to open up a five-point lead in the championship with five races remaining.
Red Bull are heavily favoured to win the next race in Singapore but Hamilton triumphed there last year and Mercedes-powered McLaren have new developments in the pipeline.
"It's also how you carry yourself and how you pick yourself up and how you recover and how you bounce back that also determines, shapes a world champion," Hamilton said.
"I know everything that we have coming, I know things that we've been working on and I'm very hopeful and optimistic that they will work well."