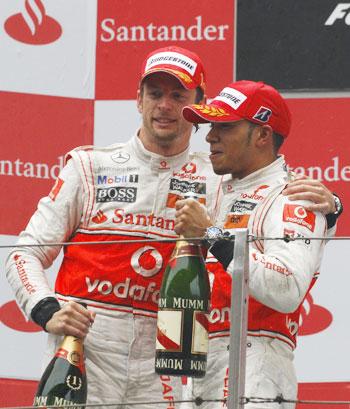 Formula One champ Jenson Button has told his McLaren bosses that he is not ready to play second fiddle to fellow Brit and Belgian Grand Prix 2010 winner Lewis Hamilton, even if it costs McLaren the title.
Button slipped 35 points behind Hamilton after being forced out of Sunday's Belgium Grand Prix by Sebastian Vettel
Thirty-year-old Button insists that he should be given the nod to race his fellow Brit, although Mark Webber has hinted Red Bull should force team-mate Vettel to back his championship bid.
"We'll not do that. The constructors'' title is as important as the drivers' crown. I don't fear either of us will miss out on the championship by approaching it our way. But if we do, we do - we''re here to go racing," The Sun quoted Button as saying.
He was set to finish second to Hamilton in Spa until Vettel t-boned him into the gravel.
The German only got a drive-through penalty but still finished out of the points as Hamilton won to regain the title lead by three points over Brit-based Aussie Webber, reports The Sun.
"I am disappointed about this - but we just have to get over it. There are still six races left and I've not given up," he added.
Meanwhile, Hamilton has said that Lord definitely helped him to win the Belgian Grand Prix 2010, as he was very lucky to get away with his trip.