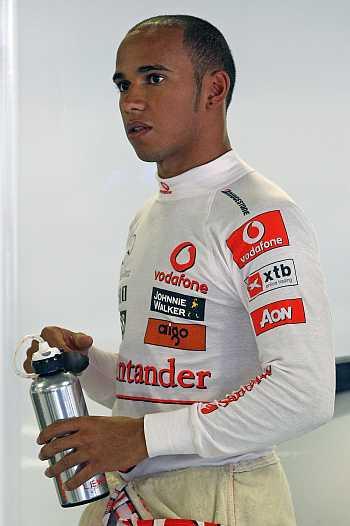 Formula One championship leader Lewis Hamilton made the wrong call in qualifying and ended up fifth on the Italian Grand Prix starting grid on Saturday.
The McLaren driver, who will line up a row behind closest rival Mark Webber's Red Bull, recognised he had made a mistake in deciding not to use the team's aerodynamic 'F-duct' device that stalls the rear wing to increase grip.
Team-mate and world champion Jenson Button took the opposite approach and ended up on the front row alongside Ferrari pole-sitter Fernando Alonso.
"Maybe we took the wrong route," said Hamilton.
"I am a little bit disappointed, I think we should have been higher up. Jenson did a great job but I think we have the wrong wing on maybe.
"I gave it 100 per cent but we just didn't have the downforce today. We were on the wrong downforce level, I think.
"We chose to go with the lighter downforce level which doesn't have the F-duct. The car was sliding everywhere so I struggled quite a lot. It was the wrong choice, a bit of a mistake, but we'll still push hard tomorrow," added the 25-year-old.
Hamilton is three points clear of Webber with six races remaining and arrived at Monza, the fastest track on the calendar, as a favourite after winning the previous race in Belgium.
The Milanese circuit is expected to suit McLaren's car better than Red Bull, who are confident the coming races in Asia will be much more to their liking.
"We are quite far back...not the best qualifying session for me this year," said Hamilton.
"But we think we can still fight for some quite good points from there," he added.