Sebastian Vettel seized pole position for the inaugural South Korean Grand Prix on Saturday, forcing Red Bull teammate and Formula One championship leader Mark Webber to settle for second best.
Ferrari's Fernando Alonso and McLaren's Lewis Hamilton will line up together on the second row of the grid in third and fourth places respectively for what could be a wet race on Sunday.
McLaren's world champion Jenson Button, the fifth title contender who is 31 points adrift of Webber, qualified only seventh after struggling to get heat in his tyres on the slippery surface.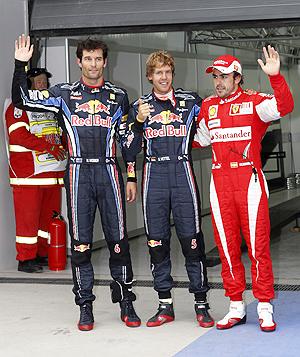 "With so little running yesterday and this morning, it was a pretty good achievement," said Vettel of his ninth pole of the season.
Webber is 14 points clear of double world champion Alonso and Vettel, with two races remaining after Yeongam. Hamilton is a further 14 points adrift.
The championship leader must start on the dirty side of an already very dusty track but, after shaking Vettel's hand and congratulating him on a job well done, he played down the significance of that.
"Fernando will probably be pretty solid off the line but its not going to make or break the world championship," said Webber, who will have a fresh engine for the race unlike his opponents.
"I'm very happy to be second," added the Australian, his forced smile and carefully measured tone telling an entirely different story.
ALONSO HOPEFUL
Webber will at least have one of the stewards rooting for him, even if rules are rules, with compatriot and former world champion Alan Jones one of the four officials for the weekend.
Vettel's pole was also Red Bull's 14th and the team's eighth front row lockout. The last driver to rack up so many poles in a single season was compatriot Michael Schumacher in 2001.
The 23-year-old, who took victory from pole in Japan two weeks' ago, has however only converted them into three wins so far.
While Alonso appeared resigned as he removed his helmet, he knew also that he had a good chance of cutting Webber's lead come race day.
"We knew we had a little possibility but not too much because Red Bull are normally quicker than us in Q3 (the third phase of qualifying," said Alonso.
"P3 (third) is our maximum potential today which in a way is good news because qualifying is not our strong point so we are in good shape for the race."
Button was the big loser of the afternoon, with the Mercedes of Nico Rosberg and Ferrari's Felipe Massa between him and his rivals, and faces an uphill battle to stay in the title hunt beyond Sunday.
"I think it's disappointing. The track temperature was quite cold and that worked against us," said team principal Martin Whitmarsh.
"It was difficult to get tyres up to temperature and the length of the track here meant you had to push hard to get two laps in. But we have got a fast race car and we are going to give it our best shot."