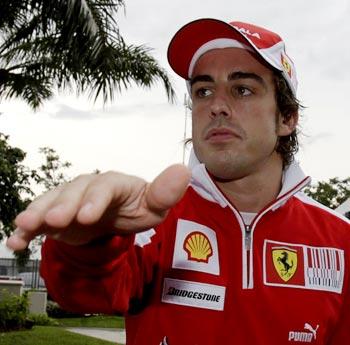 Ferrari Formula One driver Fernando Alonso has said that he does not care if he wins the drivers' crown in the courtroom rather than on the track.
Alonso got a title lifeline after a World Motor Sport Council disciplinary hearing, which had deliberated on the controversy concerning team orders, opted not to strip him of his victory in Germany.
The incident took place at Hockenheim on 25 July, when the race leader Felipe Massa surrendered his position to his teammate, Alonso, after receiving coded messages from his race engineer, Rob Smedley.
The controversial decision left the Spaniard just 41 points behind championship leader Lewis Hamilton instead of 65 heading into Sunday's Italian Grand Prix at Monza.
When asked if snatching the title this year because of the extra points would mean as much as his triumphs in 2005 and 2006, Alonso said: "Yes. Because when you win the title, you win the title."
"I think that whoever is first at the end is there because they have more points than the others and that one's a champion. This is the way it was throughout the history of F1 and other sports as well," The Sun quoted Alonso, as saying.