India's Rohan Bopanna and Pakistan's Aisam-ul-Haq Qureshi advanced to the quarter-finals of the Kremlin Cup ATP World Championship in Moscow.
The 'Indo-Pak Express' made it to the quarters after defeating the strong pair of Czech Republic player L Fridle -- a former top 10 doubles player -- and Romania's V Hanescu, The News reported.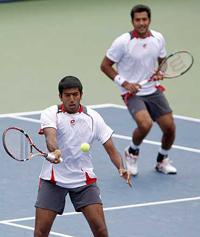 Aisam-Bopanna completely dominated the first set grabbing it with a score of 6-1, but the tables were turned in the second set when they found themselves down with 1-5 at one point in time.
However, they clawed their way back in to the set with a few classy returns to make it 3-5, but eventually lost the set 6-3.
In the super tie-break, the Asian team won 10-8 to secure their passage to the last-eight.