Already assured of their maiden medal in the Commonwealth Games, a confident India will be hoping to ride on home support to seek a major upset against world champions and three-time gold medallists Australia in the final of the men's hockey event at the Commonwealth Games on Thursday.
The Indians have already scripted history by ensuring themselves at least a silver medal since hockey's introduction in the Games in the 1998 Kuala Lumpur edition after beating England 5-4 via tie-breaker in a dramatic second semi-final on Tuesday.
The title clash also gives India a great opportunity to avenge their identical 2-5 loss to the mighty Kookaburras during the pool stages as well as during the World Cup held at the Major Dhyan Chand National Stadium, earlier this year.
A win on Thursday will not only give eight-time Olympic champions India it's first-ever Commonwealth Games gold but will also do wonders for the national game, which is battling hard to redeem its lost pride.
The Indians are also on a roll as, after being piped to the corner in the preliminary stage, they made a remarkable comeback and defeated Pakistan 7-4 in their must-win final pool match to make it to the semis.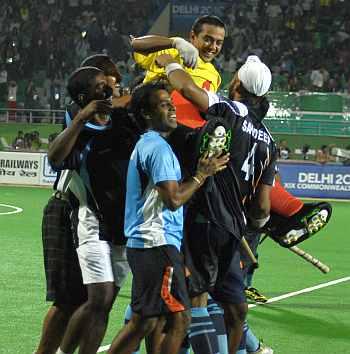 In the semi-final against ever-improving England, India displayed a lion-hearted performance and came back from two goals deficit to win the encounter 5-4 in the penalty shoot out.
In both the crucial matches against Pakistan and England, the Indians were helped by a packed, vociferous crowd who screamed their heart out to support the home team. And Australia too, India would be hoping a similar atmosphere if not less which will give them that extra advantage.
Even India coach Jose Brasa admitted that crowd support will play a big role in deciding India's fortune in this tournament.
"It is incredible to play in front of such a crowd. People here understand their hockey. They know when to cheer and shout," Brasa had said.
England captain Barry Middleton after their semi-final defeat had said, "Crowd or no crowd, Australians are too strong for any other teams in this competition."
When Brasa was told about English captain's remark, he gave a curt reply. "I don't agree with him."
Talking about the Australia game, Brasa had said, "We take one match at a time and cross the bridge when it comes."
However Brasa was quick to caution after England victory that it's too early to say that Indians are right up there among the top nations.
"Our first aim is to be among the top six hockey playing nations in the world. And yes, we are improving and climbing up the ladder gradually," Brasa said.
In both their last two matches, the Indians displayed smart, fast-paced hockey with their midfield and forwardline combining well to create chances.
The Rajpal Singh-led side also used the flanks to perfection in both the matches. However, defence still remains a major concern.
In a nutshell, India will have to dish out a far-more improved performance against the Kookaburras, who, if given a chance, will not waste a single opportunity to kill their opponents.
What is most heartening for India is that against England India's all three goals came from field play. But star-dragflicker Sandeep Singh once again disappointed with short corners and against Australia, he cannot afford to misfire.
But all said and done, Australia belong to a different league and are enjoying a dream run under coach Ric Charlesworth as they have won every major international tournament this season, including the World Cup held at the same venue and Champions Trophy in Germany.
The Kookaburras are the hot favourites to clinch the gold and their dominance can be gauged from the fact that they have not lost a single match in the Commonwealth Games since hockey's debut in 1998.
And going by their reputation, Australia would be determined to make it four gold in a row, which will stamp their authority among the Commonwealth nations, which plays hockey.
With a mixture of youth and experience in their ranks, the Australians sailed into the final of the Delhi Games with comfortable victories over their opponents, barring a hard-fought 1-0 victory over Pakistan in the pool stages.
However, one thing which might go against the Aussies in the summit clash is heat. To the dislike of Australia coach Charlesworth, the gold medal match would be played during the daytime under sweltering weather conditions.
"India have got fair amount of rest compared to us. We have played four matches in five days time under these extreme conditions but India is yet to play during the day time," Charlesworth had said.
"It is very hard to be consistent in those conditions but we have the fitness to counter these conditions," he concluded.