Maldives President Mohamed Nasheed, who witnessed opening ceremony of the Commonwealth Games, hailed the arrangements for the sporting event and dismissed the criticism that preceded it as creation of "old and established" media, which failed to judge "new" India.
He said it was not fair to project the image of entire CWG through one dirty "toilet" as some hitches are bound to be there in preparations for any mega event.
"They (critics) wanted to judge India, may be through the image of India (as was) in 80s or previous generation's idea of India. It is different India," Nasheed said.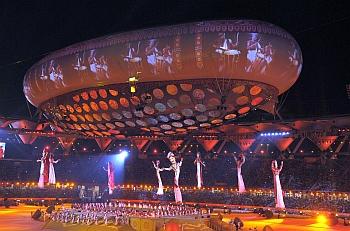 "It is difficult for some of the people especially media, old and established, to judge India....I think it is their difficulty to understand how India has evolved," he said, adding some people have to "certainly understand that new India is different. They are also going through a learning curve."
Nasheed specifically came here to witness the opening ceremony of the Games at the Jawaharlal Nehru stadium on Sunday.
"It was very spectacular and very beautiful", said the extremely impressed Maldivian President, whose country is among 71 participants in the mega sporting event.
He expressed confidence that the Games will be as "perfect and as good" as they would have been at any other place in the world.
On widespread criticism in international media over the preparations for the Games, Nasheed said there must be reasons for perception that the CWG will not be "efficient" but to "generally highlight the whole image of the Games with one toilet is ludicrous. I don't think, it was responsible or clever either."
The international media had severely criticised and raised question over India's capability to host such an event.
"The Games will be good, of course it is going to have some hitches here, a broken spring there and so on but by and large I am sure the Games are going to as perfect as any games anywhere else," the visiting President said.