After storming to a record two gold medals at the Beijing Olympics, England's ace swimmer Rebecca Adlington is hoping to continue her golden run at the Delhi Commonwealth Games.
The 21-year-old won the 400 and 800 metres in the 2008 Olympics, and became Britain's first Olympic swimming champion since 1988 and the first British swimmer to win two Olympic gold medals since 1908.
Adlington also holds the 800 metres freestyle world record, which she grabbed at the Beijing Games, breaking the mark which stood in the name of American Janet Evans for 19 years with a time of 8:14.10.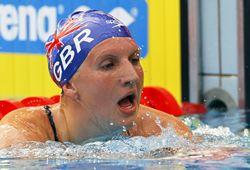 "I would like to win a medal at the Commonwealth Games. It will be my first time I have competed in one. After that my next goal will be the London Olympics in 2012.
"My best performance was at Beijing where I broke the world record for 800m freestyle. Breaking the world record for my event means a lot to me," Adlington added.
The ace swimmer created quite a splash when she won a silver medal on her international debut, at the European Championships in Budapest in 2006. 
At the Delhi Games, Adlington is slated to participate in three events -- 200m freestyle, 400m freestyle and 800m freestyle.
"My favourite event has always been the 800m freestyle, as I am more comfortable and confident in that and I know what I am doing. I don't have the natural speed for 200m."
Praising the facilities at the Games Village, Adlington said she never had any doubts about travelling to India for the Games.
"I was not worried about security before coming here. The entire team is very happy with the facilities at the Games Village and specially the food. The Village and its facilities are much bigger and better than those in Beijing."
Photograph: Reuters