Top seed Caroline Wozniacki out-muscled Victoria Azarenka of Belarus 6-2, 6-7, 6-4 to reach the final of the Pan Pacific Open on Friday.
Russia's former champion Elena Dementieva defeated this year's French Open winner Francesca Schiavone 6-4, 7-5 of Italy in the other semi-final.
Dane Wozniacki overcame Azarenka's loud grunting, tantrums and occasional flashes of brilliance to advance to the final of the $2 million tournament in Tokyo.
"After the first set the second was really tight," said Wozniacki, who is closing in on the world number one ranking.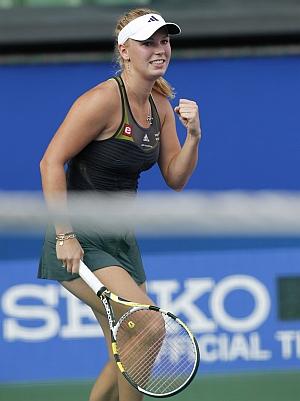 "At 5-love I felt really good," added Wozniacki, who squandered a big lead in the final set before closing the match out in two hours and 51 minutes.
"I thought the match was mine. Then Victoria started playing well and all of a sudden the score is 5-4 and I knew I had to close it out with my serve."
Wozniacki stormed through the first set but was pegged back after an error-strewn second in which, both players struggled to hold serve.
Normal service was resumed in the decider with Wozniacki pinning Azarenka back with some ferocious deep hitting before bringing up three match points.
The Dane was held up briefly after a successful line-call challenge from Azarenka on the first but clinically brought proceedings to a close with an ace the middle.
Wozniacki can overtake Serena Williams at the top of the world rankings by winning in Tokyo this week and following that with a quarter-final finish in Beijing next week.
"Caroline is very motivated as she wants to reach the number one position by the end of the year," said Dementieva, who win in Tokyo four years ago.
"She's a very consistent player and has a very powerful baseline game. I have to be aggressive and really will have to go for the winners.
"There are no mistakes I can expect from her because she is playing at the top level and having a great season," she added.