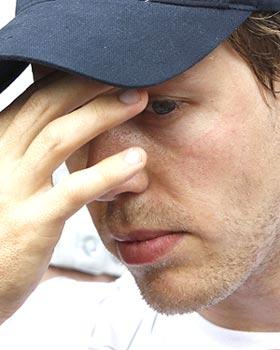 Red Bull blew a one-two finish in the Turkish Grand Prix on Sunday when Australian Mark Webber and Germany's Sebastian Vettel collided on lap 40 while running first and second.
Vettel, who had tried to pass Webber on the inside heading into turn 12, spun and retired on the spot with a punctured rear tyre.
Championship leader Webber, who had led from pole position, went off the track briefly and dropped to third place behind the McLaren pairing of 2008 and 2009 world champions Lewis Hamilton and Jenson Button.
Vettel twirled his finger around his head as he trudged away from the car as if to say 'crazy' while team boss Christian Horner watched from the pit lane wall and shook his head in disbelief.
Red Bull's designer and technical head Adrian Newey simply put his head in his hands.
Webber had won the last two races in Spain and Monaco and was leading the overall standings jointly with Vettel on 78 points, but ahead on race wins.