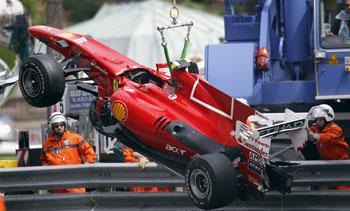 Fernando Alonso [ Images ] will start Sunday's Monaco Grand Prix [ Images ] from the pit lane after wrecking his Ferrari [ Images ] in final practice for the showcase race of the Formula One season.
A Ferrari spokesman said the Spaniard, a two times winner in the Mediterranean principality with Renault [ Images ] and McLaren [ Images ], had damaged his chassis beyond repair in the crash on Saturday morning and would not take part in qualifying.
Double world champion Alonso is currently second in the championship, three points behind McLaren's Jenson Button [ Images ] after five races.
Alonso ripped the right front wheel off the car and smashed into the metal barriers at Massenet on the approach to Casino square.
The stricken red car was then craned off the track in front of the luxury Hotel de Paris.
Stalking back to the garage, Alonso blamed himself for the accident and told a BBC pitlane reporter that he had simply "lost the car."
Ferrari confirmed there had been nothing wrong with the car.
"He's not doing qualifying," a spokesman said. "We can't repair it. We need to change it (the chassis) and there's nothing you can do in two hours."
The Italian team have not won in Monaco since Michael Schumacher's [ Images ] fifth triumph in 2001 and have not started any race on pole position since 2008.
Poland's Robert Kubica [ Images ] was quickest in the final practice for Renault with a lap of one minute 14.806 seconds, ahead of Alonso's Brazilian team mate Felipe Massa [ Images ].
Australian Mark Webber [ Images ], who won in Spain last weekend for Red Bull, was third fastest with 2008 world champion Lewis Hamilton [ Images ] fourth for McLaren on a cloudy morning in the Mediterranean principality.
Schumacher, the seven times world champion returning with Mercedes [ Images ] at the age of 41 after three years out, was sixth on the timesheets, behind compatriot Sebastian Vettel [ Images ] in a Red Bull.
Formula One champion Button was 10th for McLaren and said he was struggling for grip.