Vijay Mallya remembers the raised eyebrows that greeted his decision to retain Vitantonio Liuzzi as the race driver for the 2010 season and the Force India chairman is now pleased as punch after the Italian lived up to expectations within the first two races this year.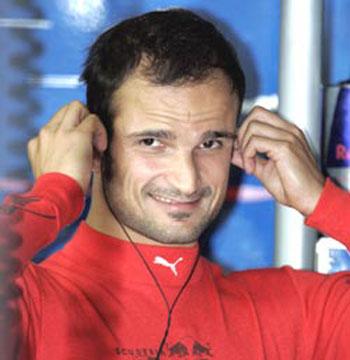 "I always had great belief in Tonio but unfortunately not all shared my optimism," Mallya said.
"We just had the first two races this season and he has scored points in both! So I can say that I stand vindicated," Mallya said.
Then a test driver, Liuzzi was shoehorned into the race-driver's job in September last year when Giancarlo Fisichella, hours after driving Force India to a fairytale podium finish at the Belgian Grand Prix, saw greener pastures in Ferrari.
Mallya not only promoted Liuzzi to the race driver's job for the remaining five races but also retained him for this season.
And it all came at a time when a clamour was growing for the inclusion of an Indian driver - Karun Chandhok - in the Silverstone-based outfit.
Mallya steered clear of the Indian-driver-for-Indian-team debate and said Liuzzi's performance this season - the Italian fetched two points in Bahrain and six more in Melbourne - proved he did not back the wrong horse.
"People sort of underestimated Tonio but he lived up to my expectation," said Mallya, also the team principal.
"Take the race here in Melbourne for instance. He looked after his tyres for 50 laps, which is incredible, and drove a sensible race to finish seventh," he gushed.
Overall, Mallya said the team now has reached a stage where regular points and occasional podiums should be the order of the day.
"We want to finish the season fifth in the constructors' championship - just behind the Big Four (of Ferrari, McLaren, Red Bull and Mercedes). Regular points and a couple of podium finishes are what we are looking for," Mallya said.
"We're already off to a strong start this season, breaking into third qualifying sessions and finishing in top 10 in both the races. Considering 2009 was our actual first season in the circuit, we have come a long way in such a short span of time and that too in a sport which is the most competitive of all," Mallya elaborated.
Looking further ahead, the flamboyant liquor and aviation tycoon said Force India stood even better chance next year and he was expecting a podium finish in the inaugural Indian Grand Prix in 2011.
"I think we have a distinct advantage next year. A resource restriction agreement will come into effect next year when teams spending three times our budget would have to cut down on their expenditure which will significantly affect them.
"Where we have the edge is that we are a moderately successful team operating on a comparatively modest budget and we would operate just like we are doing now.
"So come Indian GP and I expect at least one of the Force India driver on the podium," said Mallya.