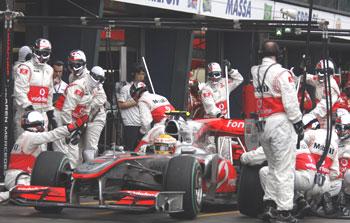 Lewis Hamilton capped off his troubled return to Australia on Sunday by tangling with local hero Mark Webber and then blaming his own McLaren team for costing him a podium finish.
Hamilton, who had fought from 11th on the grid to nip at the heels of second placed Renault driver Robert Kubica, finished sixth after a race he described as "one of the drives of my life".
However he felt he could have at least anchored a McLaren one-two, with team mate Jenson Button winning, had McLaren not called him in for a second change of tyres while his rivals stayed out.
"Unfortunately due to the strategy I was put further back and then I got taken out by Mark Webber," Hamilton told reporters, after earlier describing the pitstop as a "terrible idea" over the team radio.
"I am happy with the job that I did, I think I honestly drove my heart out today and I think I deserved better than what I ended up with. But I'll keep fighting to the next race," he added.
When asked about the pitstop, Hamilton sighed heavily. "All I know is that the guys always do a fantastic job but the strategy was not right," he said.
"Everyone else in front of me did one stop, for some reason I did two.
"I don't know (who called me in), we'll find out," added Hamilton, who collided with Webber on the penultimate lap while chasing the two Ferraris and trying to fend off the Red Bull driver.
POLICE ACTION
McLaren team boss Martin Whitmarsh said Hamilton had made his displeasure clear on the team radio, but was called in because his tyres were wearing and he was losing pace to Kubica.
"With the information we had at the time, given where Lewis was, we thought that was the right call," he told reporters.
"In retrospect, hindsight, if we look at how the race played out, if Lewis could have made those tyres last if he could, then he could have finished at least second today and we could have had a one-two," he added.
"It was disappointing, I think it was a fantastic drive by Lewis. We as the team made the decision, I've got to be accountable for that. I'm disappointed with the outcome, but I'm not disappointed by the process," added Whitmarsh.
"Lewis passionately expressed himself on the radio, and that's how Lewis is.
"He's passionate, he likes to win, he's hard on himself, he's hard on the team, and that's how Lewis Hamilton is. And that's how he ticks and that's how he functions," he added.
Since winning at Albert Park in 2008 on the way to becoming the youngest Formula One world champion, the 25-year-old's Australian Grand Prix experiences have been fraught with controversy.
The Briton failed to make the third round of qualifying on Saturday, in a performance Whitmarsh attributed to the driver being distracted after a brush with police for larkish driving on the previous evening.
The Briton had his Mercedes impounded and is expected to be charged with "improper" driving after skidding the back tyres in sight of police at an intersection near the circuit.
Hamilton's 2009 trip to Melbourne was the catalyst for a scandal in which the driver was judged to have deliberately misled race stewards to secure third place -- a result later overturned with his exclusion.