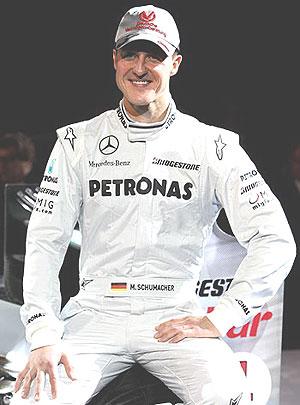 Seven times Formula One champion Michael Schumacher, who returned from retirement recently, will shake off a bit more rustiness in Sunday's Australian Grand Prix before fully regaining his brilliance the following weekend in Malaysia, said Austrian legend Niki Lauda.
The Austrian legend took two years out before returning to win the third of his three world titles, albeit not until the third year of his comeback.
Lauda is not concerned that seven-time champ Schumacher was out-qualified and outraced by Mercedes team-mate Nico Rosberg at the opening Grand Prix in Bahrain.
He insisted the 41-year-old German produced a "perfect performance" even though many expected him to be a winner straight away, The Sun reports.
Lauda said: "You can hardly start any better. He ran very little over the winter due to test restrictions, then got into a modified car he had never driven before. So it was simply impossible for him to clock a qualification lap at the push of a button."
"I suppose he needs about three races to get back up to the same level he was at. When you take all that into account, he did a superb qualification lap, even compared to Nico who was only three-tenths faster.
"My guess is that in Kuala Lumpur he will have regained the ability to switch on for a fast lap that every driver has to have," Lauda added.