Playing in his final World Cup, star Australian striker Jamie Dwyer says he is confident of signing off with a title triumph that has eluded his team for the past 24 years.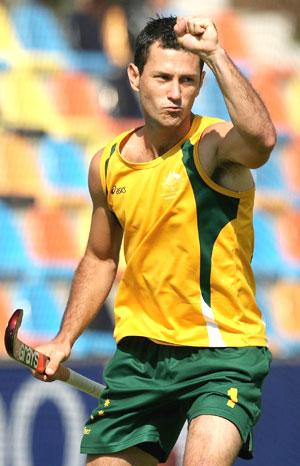 In his illustrious nine-year international career, Dwyer, who celebrates his 31st birthday today, has not won a World Cup gold though his trophy-filled cabinet has an Olympic gold and three Champions Trophy gold medals.
Thrice FIH Player of the Year - 2004, 2007 and 2009 - Dwyer says he is playing in his final World Cup here and he wants to win a gold by helping his team beat old nemesis Germany in the summit clash in New Delhi on Saturday. Australia had finished runners-up in 2002 and 2006 edition of the event.
"It will be my last World Cup. I have an Olympic gold and three Champions Trophy gold and only a World Cup gold is missing in my cabinet. So I want to win it this time," Dwyer said.
Dwyer, who has played more than 200 international matches after making his Australia debut in 2001, said his side is determined to win after having lost both the earlier World Cup finals in 2002 and 2006 to Germany.
"Everytime before a World Cup there has been talk about we being the pre-tournament favourites but the Germans came up with something and won. But this time we want to change that and win the World Cup," he said.
"We are playing very good, attacking hockey. Their defence is very good and they also have some very good forwards like Matthias Witthaus. Our strength is in attack. So it could be German defence versus Australian attack, I hope we convert the chances and score early in the final," Dwyer added.
Dwyer, who uses his signature stick JD 1 after his initials and jersey number, is excited about taking the field this time after watching his team lose 3-4 in 2006 final he missed due to an injury in the semi-final against South Korea.
"Yeah, it was hard to watch the final (in 2006) from the stands but this time I will be playing in the final. I will just go out and enjoy my last World Cup match," said Dwyer, who scored the winning goal in the gold medal match against the Netherlands in the 2004 Athens Olympics.
Dywer, who played for Maratha Warriors in the Premier Hockey League in 2007, was a bit disappointed with the lack of crowd support for his side.
"India is one of the places where I want to play hockey. But we are not getting much crowd support. Whenever we play they either support the Dutch or the English. I don't know why this is," wondered Dwyer, who has played club hockey in Spain and the Netherlands.