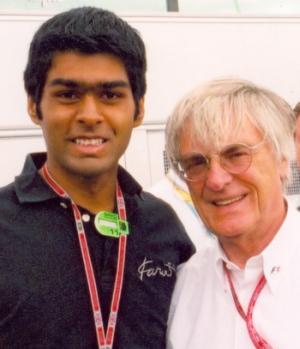 Formula One supremo Bernie Ecclestone has urged India to get behind Karun Chandhok when he makes his grand prix debut in Bahrain next weekend with the new HRT team.
Chandhok, announced as HRT's driver barely a week before the first practice session of the season in Bahrain next Friday, will become only the second Indian to race in Formula One.
The first was Narain Karthikeyan with Jordan in 2005.
"I am very happy to see that Karun has finally secured his place on the Formula One grid," the 79-year-old Ecclestone wrote in a statement.
"It's been a bit last minute but the main thing is that he is there and with a team that should provide him stability and a chance to learn.
"While I believe it's going to take Karun until mid-season to be able to show his potential, I wish him all the very best for this season and look forward to seeing the Indian media and public get behind him this year," he added.
India is scheduled to host a grand prix in 2011 and Ecclestone said Chandhok's arrival was the logical next step for the country.
"India is rapidly growing to be one of the most important and powerful players in the world of business, culture and sport and at FOM (Formula One Management) we look at India very seriously," he said.
"We have an Indian F1 team on the grid, we will have an Indian Grand Prix thanks to the Jaypee Group in 2011 and so it seems only right that there should be an Indian driver in Formula One," he added.